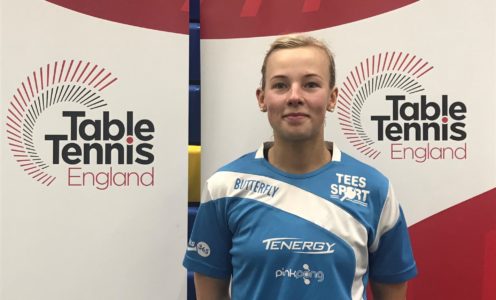 More than 200 players from across the country were in action when the University of Bath Sports Training Village hosted the fourth Table Tennis England Grand Prix event of 2017-18.
A busy weekend in the Team Bath Arena saw Sam Mabey beat Matt Leete 11-6 11-8 11-18 in the men's singles final, while Hannah Hicks (pictured) retained her women's singles title with a 11-6 11-8 11-7 victory over Patricia Ianau.
Leete overcame his disappointment in the Open final by taking top spot in the men's U21 singles with a hard-fought 14-12 12-10 11-8 win against Callum Evans. Katherina Bondarenko-Getzger also had to work for her 14-12 11-5 11-8 victory over Mollie Patterson in the women's event.
The veterans' title went to Martin Gunn, who didn't drop a set during the tournament and beat Ben Wilson 11-7 11-9 11-3 in the final.
Click here for more information and a full report from the Bath Grand Prix on the Table Tennis England website.