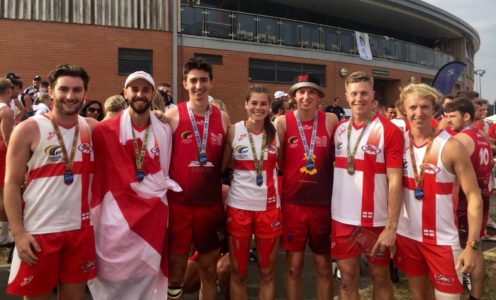 Seven University of Bath students past and present all won medals as they represented England and Wales at the European Touch Rugby Championships in Nottingham.
Psychology student Bronte Sykes, who received support from the Team Bath Elite Athlete Fund towards her competition expenses, was vice-captain of an England Women's Open team that remained undefeated as they successfully defended their title.
Sport & Exercise Science graduate Dom Tripp captained the England Men's Open team, which also included Sports Performance graduate Will Serocold, to a second successive European title.
They beat a Wales team featuring Education with Psychology student Dan Roberts in the final.
There was also a silver medal for Wales and Biochemistry student Rhys Lynch in the Mixed Open competition, with an England team including Nye Davis and Ollie Lee – studying Mechanical Engineering and Mathematics respectively – taking home bronze in that category.
All seven have played for the Bath University Hawks team that has enjoyed great success on the domestic and European stages in recent years.
Click here for more information on touch rugby at the University of Bath or email unibathtouch@gmail.com.
Bronte provided this report on England Women's success in Nottingham…

"It was an honour to represent and vice-captain England Women's Open. Our first game was against Germany, who definitely surprised us as they scored two touchdowns in quick succession while we were still getting into the game.

"However, we managed to sort out our defence in time and come back with some great touchdowns to win 19-2. While this was a good start to the tournament, we knew we couldn't have slow starts like that against more competitive teams.

"Our second game was against Scotland, who we beat 10-4. They were much more organised and structured, making both attack and defence more difficult. Again it was great to get the win but we knew we had so much more to give. Our final game on Day 1 was against Guernsey, who we beat by a comfortable 17-0 margin.

Bronte Sykes (front, second from left) was vice-captain of the England Women's Open team that won gold at the 2018 European Touch Rugby Championships

"Day 2, however, was not as smooth sailing. We had France up first at 9am and I think we concluded that we aren't morning people. We luckily came away with a 5-4 win but we made it very difficult for ourselves, leaving it to the final buzzer.

"France played a defensive policy that we had not yet come across and we were slow to adapt to it. Whilst 'a win is a wins', we knew that if we wanted to beat Wales, we really needed to step up our game. Thankfully, we had an 18-0 win over Switzerland that afternoon which was the confidence boost we needed going into the third day of pool games.

"Day 3 was a big day for us as we had Wales – a repeat of the 2016 final. That was a mental battle rather than a physical game and, for whatever reason, Wales tend to psych us out. However, after warming up with a 15-1 victory over Italy, we played some of the best women's touch rugby that Europe had seen and beat them 11-1.

"It was the biggest scoreline against Wales to date and testament to the hard work we had all put in over the last eight months – and it felt amazing! Our final pool game was against Belgium, who we beat 9-1 to finish top.

"Our semi-final was against France, and we knew we had a point to prove. Luckily, we adapted to their defensive strategy and overcame the mental block from our previous game against them, beating them 10-3. We were through to the final.

"The final was against Wales, again, and it all felt very familiar. Singing the national anthem surrounded by your team-mates, family, friends, and supporters is a real honour, and one I don't take for granted.

"The hooter went and the mental block was back. The game was scrappy and physical, and unfortunately not a repeat of the previous day. Nevertheless, we won 3-2 and defended our title.

"Over the course of the week we scored 117 touchdowns and only conceded 18. While this is a great achievement, we know that we still have a lot of work to do if we want to be competitive at the World Cup next year in Malaysia."