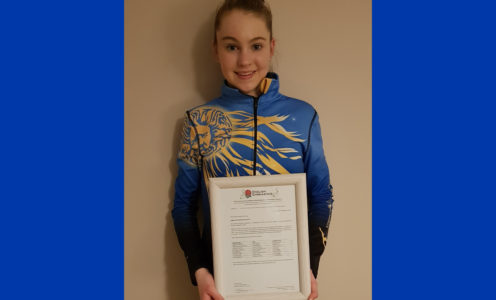 Team Bath Rhythmic Gymnastics star Sophie Hookings, who moved from Mallorca to the South West to pursue her sporting dream, has been selected for the the England squad.
The 16-year-old started gymnastics at the age of five, where her talent and determination saw her earn selection to attend the Centro De Alto Rendimiento in Madrid, a training school for elite sportspeople.
Her passion for rhythmic gymnastics and dream to compete internationally as a British representative meant that Sophie had to begin competing in the UK and she joined Team Bath in October 2017 under the watchful eye of Head Coach Sarah Moon.
At that time, the club was being featured in the CBBC television series Gym Stars and the producers became interested in Sophie's story. They travelled to Mallorca to film Sophie and to follow her journey to the UK.
Shortly after Sophie and her mum made the permanent move to the South West in August 2018, she represented Team Bath at an international competition in Sofia, Bulgaria and brought home three golds along with the All-Round medal.
Now Sophie's dream of representing the UK on a global stage has taken another leap forward as she has been selected for the English squad. Sophie, who trains 18 hours a week after school, is very excited to be attending the Elite Academy in Lilleshall to do more intense training.
"Rhythmic gymnastics is all I have every wanted to do and reaching my full potential and representing Britain on the international stage is my dream," she said. "I appreciate all the support my mum and the Team Bath Rhythmic Gymnastics club have given me."
Coach Moon added: "Sophie has the ability, attitude and aptitude to go all the way. Unfortunately, rhythmic gymnasts do not get the funds that other sports benefits from so we hope that Sophie can get a sponsor to help her go all the way and demonstrate to other teenage girls that its worth pursuing sport through teenage years and beyond."
Anyone interested in sponsoring Sophie is asked to email her at sophie.gymnastics@hotmail.com.