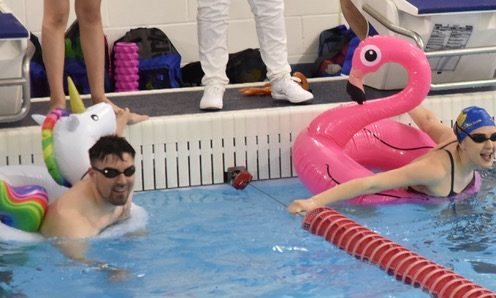 Team Bath AS raised more than £700 for Comic Relief on Friday as swimmers, coaches and parents came together at the University of Bath Sports Training Village for the 'Bags of Fun' Relay event for Red Nose Day.
Four teams – headed by coaches, Chris Alderton, Mike Mukelt and Liam Willcox plus former GB swimmer Tilly Gray – went head to head in a tactically challenging race that involved racing with mystery items extracted from the Bags of Fun just before the whistle.
Team Mike won the day, with the Team Bath AS Strength & Conditioning Coach swimming his final victorious length with a large inflatable crocodile.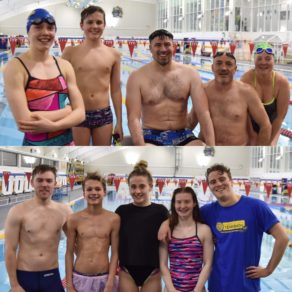 Team Liam came in second after coach Cameron Dunk had the team's lead and his 24.87 50m freestyle personal best curtailed by a large inflatable rubber ring.
The battle for third and fourth saw Team Tilly get the edge thanks to her impressive swimming style with an inflatable flamingo.
The Team Bath AS Relay gave swimmers, parents and Masters swimmers the opportunity to unite in mixed teams and proved a huge hit with the crowds that gathered to watch the event at the University's 50m London 2012 Legacy Pool.
The announcement of a special mystery guest added to the excitement in the build-up to the event and it proved to be Olympic medalist Siobhan-Marie O'Connor, who added to the fun by arriving poolside in disguise to swim the first leg for Team Liam.
Team Bath AS would like to thank to all the volunteers who helped to organise the event, everyone who supported the cause and to the amazing teams for stepping up to 'do something funny for money' for Comic Relief.