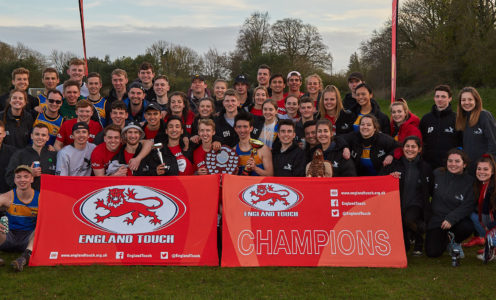 The University of Bath secured the University National Touch Rugby Series (UNTS) overall title as they claimed victory at the last tournament of the season.
Having won three of the four previous tournaments this season, the Hawks only needed to make the semi-finals to guarantee overall series victory but they ensured they finished an excellent season – in which they lost just one of their 55 matches – in fitting style.
The tournament was split into the Elite and Emerging tiers, with both the 1st and 2nd team in the elite competition. In the pool stages, the 1's recorded wins against Exeter 2's and 3's, and Nottingham putting them in a strong position heading into the quarter-finals. In a tough pool, the 2's, led by Jack Harris in his final tournament with the Hawks, started with a draw against Bristol 1's. However, despite losses to Exeter and Loughborough, good defensive performances saw them take 3rd place in the pool on points difference.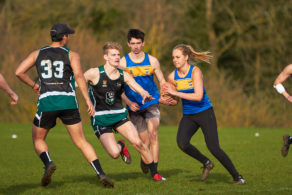 The 3's, playing in the emerging tier made up of ten teams, were playing in only their third tournament and still searching for their first win. Captain Jonty Russell led from the front to help the team accomplish this with wins against both Cardiff and Surrey, leading to a third-placed finish in the pool. They were knocked out in the shield semi-finals in a close game against Durham, finishing 15th overall.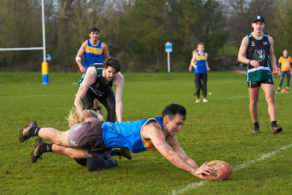 Both the 1's and 2's played well in the quarter-finals to advance to the semi's where the 1's beat Nottingham with a try in the last minute of the game. Unfortunately, it was not to be for the 2's, as they were knocked out by last years overall series champions, Exeter, finishing an impressive joint 3rd place overall.
This set up a tense final between Bath and Exeter. Despite conceding early on, some fantastic play saw the Hawks go in to half time with a 4-2 lead. With plenty of support from the side-lines, they maintained this through the second half to take the tournament with a 7-5 win, and with it the overall university series title.
Congratulations to Nye Davis and Amber Sykes, who were awarded tournament MVP's, and Daniel Roberts and Jess Clarke, awarded MVPs for the overall series.
This capped off a brilliant year for the Hawks, who won back-to-back Bath Touch Leagues as well as the Valencia International Tournament alongside their success on the university stage.
Any students interested in giving touch rugby a go should email UBRFC Co-ordinator Nye Davis at ned21@bath.ac.uk.