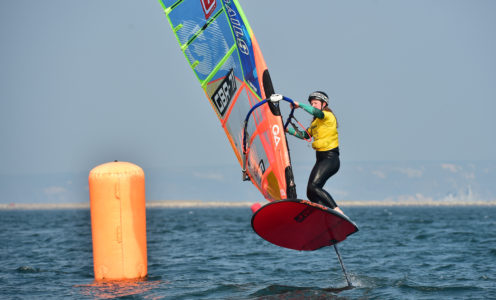 University of Bath windsurfer Sarah Jackson recorded a top-ten finish in a relatively new discipline when the first national ranking competition of 2019 took place at the National Sailing Academy in Weymouth and Portland.
After a frustrating first day of competition saw racing abandoned due to a lack of wind, Sports Performance student Jackson – who is a MJ Church Ambassador and supported by a Santander Sports Scholarship – turned her attention to hydrofoiling.
"It is a relatively new concept in windsurfing, seen as a lighter wind alternative to normal racing," she explained. "It's kind of like flying where the wings of the hydrofoil provide so much lift that the board rises out of the water and only the foil is in the water – it's an amazing feeling as everything goes light and quiet as you don't get the sound of the board slapping the water.
"I am very new to the discipline having only been out on a foil four or five times but what better way to learn than in a race with the best guys in the country?
"The first race I felt very out of my depth and got lapped by about six of the fleet but I used a more tactical approach from my junior racing days on the second lap and made up a few places, which settled me into the racing – now I had the bug!
"In the second race, I still haven't worked out how to start very well but once I got going I was flying fast and was sixth around the first mark – quite an improvement. A few crashes on the turns dropped me back a few places but I was really happy to see how much I was improving as I gained more confidence.
"I finished tenth overall out of a fleet of 22, many of whom are experienced foilers, so it was a huge achievement as I wasn't sure I was even going to make it around the course!"
Picture credit: Andy Stallman