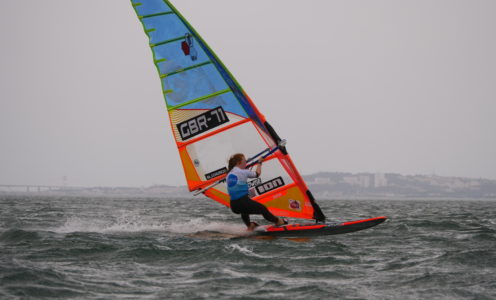 University of Bath sporting scholar Sarah Jackson overcame challenging conditions to record her best PWA (Professional Windsurfers Association) World Cup result yet when she competed in her first event of the year in France.
Club Nautique Marignanais, near Marseille, is renowned for being one of the windiest spots on tour but the weather did not play ball on this occasion and it wasn't until Day 2 that there was enough breeze for competition to take place.
A solid first round saw MJ Church Ambassador Jackson, a Sports Performance student supported by a Santander Scholarship, qualify for the semi-finals but they were delayed for three days until conditions were suitable.
"We had to be down the beach and prepped at 8am in case they sent us out and it wasn't until around 7pm, when there was no sign or forecasted wind, that we would be released," Jackson explained.
"Knowing that you could be going out to race in a World Cup semi-final with half an hour's notice meant trying to guess timings for when and what to eat and when should I put my wetsuit on, whilst trying to stay hydrated and keep out of the sun – it was actually quite challenging!
"When the wind did arrive on the final day, the course was set about 1km off the beach so it was almost impossible to come back and change your equipment or get a drink. Knowing this, gear selection became a lottery as we normally work in a 5mph wind range for each sail size, yet we were getting reports from the course of 7-25mph.
"I took a slightly smaller sail than some of the other girls and it felt like the perfect set-up at first but then the wind dropped and I panicked. I actually crossed the start line too early, meaning I should have been disqualified with two other girls, but one of the media boats hit the anchor line of the start boat and the race was abandoned so I was back in the game!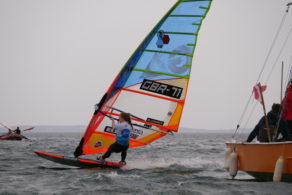 "About an hour later we got underway and, after feeling underpowered for much of the time, suddenly the wind got up and I was on the right gear. I was third during the final run but could hear the chasing pack behind me and thought I needed a really good turn to hold my position and qualify in the top four.
"Unfortunately I lost my footing and ended up swimming, leaving me in last place by the time I was back on my board. As soon as I fell in I looked behind me and realised the rest of the pack were a long way off. Lesson learnt – always check where the pack is before you turn!"
That mistake put Jackson into the 9-16 placing race and she finished a World Cup best 13th overall, just missing out on 12th in a photo finish.
"It was a particularly challenging event for everyone with constantly being on hold and waiting to go," she said. "We would also normally have eight rounds at a normal World Cup, so to only have one this time was frustrating.
"However, I proved to myself in the semi-final that my winter training has been paying off and I can't wait to come back in Denmark in September after a summer of training and test myself alongside the other girls.
"Attending this event wouldn't have been possible without the help from Team Bath Elite Athlete Fund, MJ Church and Santander so thank you everyone for your support."
Picture credit: PWA/Adam Sims Productions