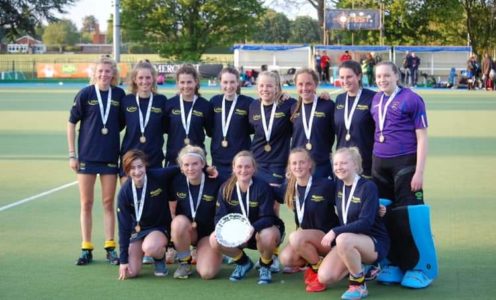 Team Bath Buccaneers' U18 Girls went one better than last year when they were crowned as England Hockey Tier 2 Champions with an excellent 8-1 victory over Sudbury in the final.
A fine strike from Sophie Hamilton after just two minutes settled the nerves and she doubled the lead before Olivia Hamilton converted a penalty corner to make it 3-0 at half-time.
Alice Dymond and Olivia Hamilton added to the scoreline, either side of a Sudbury goal, and Ursula Olsen-Groome scored twice in 60 seconds before Lizzie White had the final say.
Molly Hunter and Sophie Gorman dealt with everything coolly and calmly at the back, keeper Kate Mallet was sharp when called upon, Kate Jones and Milly Walters were in midfield and the half-backs of Annalotte von Velsen and Rafa Borries Gruber broke up play to great effect.
Meanwhile, Team Bath Buccs men's 1sts player John Jackson has been selected in the Ireland squad for next month's FIH Series Finals in France.