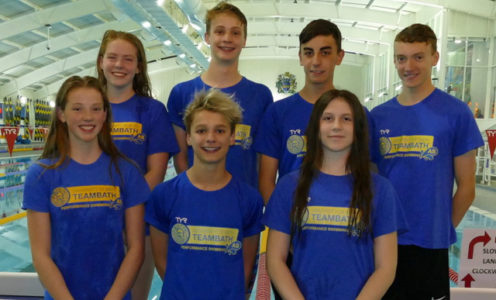 Team Bath AS swimmers who are supported by the Team Bath Futures Athlete Development Programme are preparing to take to the national stage over the next couple of weeks.
The British Swimming Summer Championships, taking place in Glasgow from July 23-28, will see Max Adams take on six events – 50m, 100m and 200m freestyle, 100m and 200m butterfly and 50m backstroke.
Olly Watts will compete in both the 50m freestyle and 50m butterfly, while backstroke specialists Katie Butcher (50m), Finlay Saunders (100m and 200m) and Niamh Ward (100m and 200m) will also be taking on the best of British.
Finlay and Olly will then head to the Swim England Summer Championships, taking place in Sheffield from July 31 to August 4, where will they compete in the 50m backstroke and the 100m freestyle, 200m freestyle, 800m freestyle and 50m breaststroke respectively.
They will be joined in Sheffield by Oliver Saunders, who is racing in the 200m individual medley, and Lydia Crawford, who is the 200m butterfly.
A busy couple of weeks will conclude with Katie racing in the 100m backstroke, 200m backstroke and 50m butterfly at the Swim Wales Summer Open in Swansea from July 29 to August 2.
All benefit from additional strength and conditioning training plus sport science support from Team Bath Futures, a programme for sports people aged 10-18 designed to improve all physical capabilities of strength, power, speed, agility, balance and flexibility while reducing the risk of injury during growth and maturation. Click here to find out more.
Team Bath AS – who train in the Olympic-sized pool at the University of Bath – provides a structured pathway for local swimmers of all levels to realise their maximum potential from first competitions and galas through to competing at National and International level. Click here to visit their website.
Pictured: (Back, from left) Lydia Crawford, Finlay Saunders, Max Adams, Olly Watts; (front) Niamh Ward, Oliver Saunders and Katie Butcher.