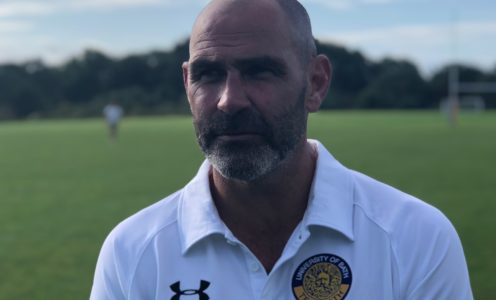 University of Bath rugby head coach, Aaron James, says the coaching team has prepared the BUCS Super Rugby side just like for any other match this season despite tonight's fixture against Durham set to take place in front of a big crowd at Rosslyn Park.
That coaching team of Lewis Messer and Nathan Catt have worked the squad, sponsored by Fulikers Bailey Russell, hard this week.  James said:
"We're a bit disappointed on reflection as to the way we played the second half against Exeter last week and we're looking to change that. That's been a big focus for the coaching team who have been working pretty hard as to our processes and our game plan. That has been the big focus".
Meanwhile, the match will be great preparation for this year's Anniversary Game, sponsored by Rengen, taking place at the Bath's iconic Recreation Ground, the home of Bath Rugby.
"Yes, there is going to be a crowd tonight and there are going to be people enjoying themselves, the crowd are very close to where the benches are and we've highlighted that to the boys.
"But it's great preparation for the Anniversary Game. We're very lucky to be able to get these venues and play these games. BUCS Super Rugby is helping that process and the level of rugby and the product that we are delivering has made great strides".
Entry to the Anniversary Game is free of charge.  Spectators simply need to register in advance. For more details visit:  https://rugby.teambath.com/anniversary-game-2019/