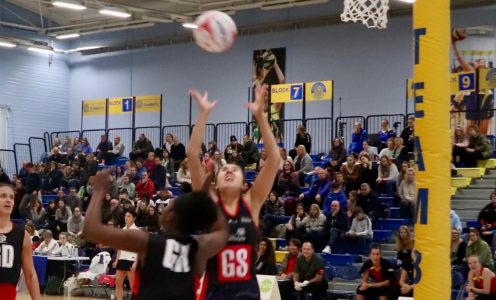 With three matches gone at The BiG Showdown, Team Bath and Saracens Mavericks both have three points apiece as do Knights who provided the early upset, taking the victory over Surrey Storm.
Team Bath v Severn Stars
Team Bath started brightly with a 36-23 win over near-neighbours Severn Stars.  They led throughout in an encounter marked by pace and precision in attack with some flying and crowd-pleasing 'takes' in the circle from both Kim Commane and Sophie Drakeford Lewis.
Nia Jones put in a dynamic captain's performance for Stars and Paige Reed caught the eye with some long-range success at goal-attack.   Former Blue and Gold shooter Shanaugh Craig came on for Stars at goal-keeper for the final quarter.
In the opening quarter Team Bath sizzled to a 4-0 lead but Stars settled and came back to within 1 goal at 5-4 before the home side closed out the quarter at 10-8.
Team Bath stretched their lead in a solid and fast-paced second-quarter performance to lead 18-14 at half-time.  The Blue and Gold worked patiently to feed into the circle whilst Eboni Usoro Brown, captain on the day, made a big intercept at 14-10.
In the third quarter, coach Anna Stembridge gave South African international Khanyise Chawane her debut at centre and brought on Rachel Shaw at wing-attack with Laura Rudland replacing Drakeford-Lewis at goal-attack.
Summer Artman, fresh back from England duty, joined Usoro Brown in defence and the lead eased out to 28-19 at the three-quarter mark.  They closed out the quarter out at 28-19 and the whole match at 36-23.
Team Bath squad:
Eboni Usoro Brown, Sophie Drakeford Lewis, Summer Artman, Imogen Allison, Abi Robson, Khanyisa Chawane, Mia Ritchie, Hannah Passmore, Betsy Creak, Rachel Shaw, Kim Commane, Tash Pavelin, Laura Rudland, Fionoulla Toner.
Severn Stars Squad:
Nia Jones (Capt), Bethan Dyke, Lucy Harris, Lucy Herdman, Paige Reed, Georgia Rowe, Chloe Carchrie, Ellie Gibbons, Jane Taylor (Sunday only), Hannah Howl (Sunday only), Harriet Sanderson (Sunday only), Shaunagh Craig
Surrey Storm v Knights: Match Report
The Knights, the UK's leading men's netball team, made their presence felt from the get-go at The BiG Showdown.  They worked their way into an opening encounter with Surrey Storm to emerge 35-32 winners.
Whilst storm started more strongly, the Knights were only two goals adrift at the first quarter break, 8-10.
Often trading goal-for-goal and to the interest of the crowd, the Knights played with raw pace and movement and used their totemic goal-keeper and goal-shooter, Daniel Jolley and Lewis Keeling respectively, to good effect.
Knights goal-attack and well-known netball coach, provided mobility around Keeling in the circle and a strong mid-court performance Knights were four goals up at half-time, 20-16.
Storm co-coaches Emily Nemeth and Dani Mugridge made some effective switches at half-time with Austin shifting to centre and the Surrey side produced greater penetration in attack to narrow the gap to just one goal 25-26 with the final eight minutes remaining. But a final, strong quarter brought the Knights to victory.
Knights squad
Patrick Buckely, Chris Green, Jesse Hadfield, Geoff Mackay, Jamal Nicholson, James O'Connor, Dan Ryan, Kelm Speck, Lewis Keeling, Jesse Badger, Dan Rix, Daniel Jolley, Simon Taylor.
Storm squad: 
Mikki Austin, Karyn Bailey, Naimh Cooper, Jess Dale, Leah Goss, Emily Gulvin, Sophie Hankin, Katy Hughes, Leah Middleton, Laura Morton.
Match Report:  Strathclyde Sirens v  Hertfordshire Mavericks
Featuring international netballing sisters, Sacha and Kadeen Corbin, Saracens Mavericks opened their account with a strong first quarter in which they moved to a 4-1 lead at the mid-way point and 8-5 at the break.
Sirens used some pinpoint, long-range shooting to draw level early in the second quarter at 8-8 but the reprieve was brief.  George Fisher retaliated with equal precision at shooter for Mavericks who surged to a 17-8 lead at half-time.
Having hit their stride in that second quarter, Mavs coach Kat Ratnapala, fresh back from a stint as Assistant England Coach in South Africa, opted to shake up her line-up in the third period but the result was the same as the pre-tournament favourites led by 24-13 at three-quarter time and then 30-19 at the final whistle.
Sirens squad:
Gia Abernethy, Kelly Boyle, Natalie Bright, Cerys Cairns, Lynsey Gallagher, Claire Maxwell, Niamh McCall, Nicola McCleery, Emily Nicholl, Zanele Vimbela.
Mavericks squad
Steph Collard, Kadeen Corbin, Sasha Corbin (Capt) , Beth Ecuyer Dale, Chloe Essam, George Fisher, Georgia Lees, Gabby Marshall, Razia Quashie, Jo Trip.
Team Bath are sponsored by:  Centurion Chartered Financial planners and we are working closely this season with local charity Sporting Family Change to create impact on people's lives through sport.