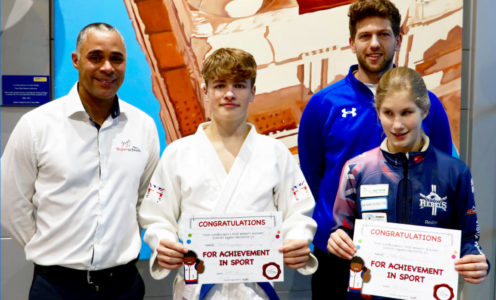 Three young sportspeople who train with the Team Bath Futures Athlete Development Programme have received a £200 bursary from the Team Superschools (TSS) organisation.
Skier Hester Poole and judoka Sam Simmonds were presented with their cheques and certificates at the University of Bath Sports Training Village by Olympic Champion Jason Gardener, who co-owns TSS with fellow Athens 2004 4x100m relay gold-medallist Darren Campbell.
Track and field athlete Dylan Stoneman has also received funding from the Todd Bennett TSS Bursary Support Award, which honours the memory of TSS founding partner Todd by supporting young people who show determination, belief and a willingness to learn.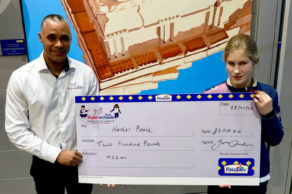 "Well done to Hester, Sam and Dylan, who are all worthy recipients of this award," said Gardener, who trained at the University of Bath throughout his illustrious athletics career.
"It is great to be able to support young people as they strive to be the best they can be, pursue their dreams and live a healthy, active lifestyle."
As well as provide bursaries, Team Superschools also organises inspirational visits by international medallists to primary schools across the country with more than half-a-million children having benefited from the scheme since it launched in 2009.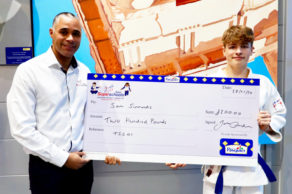 Poole, Simmonds and Stoneman all supplement their sport-specific coaching with strength & conditioning sessions at the Sports Training Village through Team Bath Futures. They also have access to nutrition and sports psychology support, with the programme designed to help sportspeople aged between 11 and 18 develop and mature as athletes while managing and reducing the risk of growth-related injuries.
Visually-impaired skier Poole – whose brother and guide Benjie is also a Futures athlete – is set to make her international debut for Great Britain on the slopes in Poland later this month.
"It's really exciting to have been selected and we're looking forward to our first international competition," said the King Edward's School Bath pupil.
"It's great to get to this support from Team Superschools and we are also enjoying being part of the Futures programme. The sessions are balanced and personalised to your sport, which is really helpful."