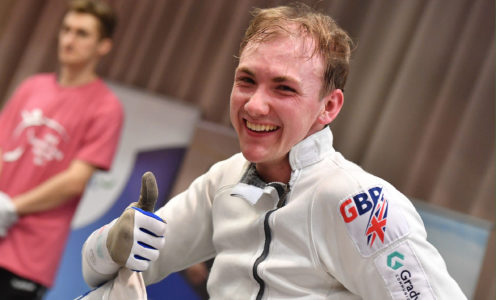 Piers Gilliver topped the Category A Epee podium for a ninth time in 13 international competitions as the University of Bath-based wheelchair fencer claimed his second medal at the IWAS World Cup in Eger, Hungary.
After winning bronze in the sabre on Thursday, reigning World Champion Gilliver once again dominated the epee competition and conceded just 21 hits during the knockout phases on his way to another gold.
After beating Poland's Norbert Calka 15-5, Gilliver raced to a 15-2 victory over Ukraine's Maksym Mahula before booking his place in the final with a 15-5 defeat of Germany's Maurice Schmidt.
That set up another meeting with number two seed Maxim Shaburov of Russia, their third final in five World Cups, and Gilliver once again came out on top with an impressive 15-9 victory.
It meant that wheelchair athletes based on the EIS World Class Programme at the University of Bath finished the first World Cup of 2020 with three medals, following Dimitri Coutya's gold in the Category B Foil on Thursday.
Both Gilliver and Coutya are coached by Peter Rome at the University's Sports Training Village. Click here to find out more.