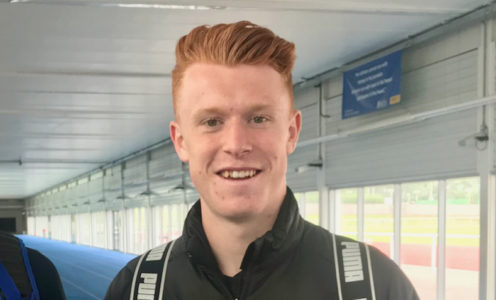 University of Bath sporting scholar Alastair Chalmers ran the fourth-quickest time ever by a British athlete over the 300m hurdles when he began his 2020 track and field season in fine style on Sunday.
Economics student Abi Galpin also continued her impressive start to the outdoor season by setting a new island record in the women's 300m during the meeting at Guernsey's Footes Lane.
Sports Performance student Chalmers (pictured) – supported by a King Sporting Scholarship – was competing in his native Guernsey, where social distancing measures were lifted in June allowing sport to resume.
The 20-year-old clocked 35.35 while claiming victory in the 300m hurdles, a distance rarely run at competitive level, and says he is feeling good shape as he starts preparing towards September's rescheduled British Championships in Manchester.
"If I do something near to that time over the 400m hurdles I'll be doing an incredible time," Chalmers told ITV Channel Islands.
"Now it's time to put my head back down for a week or two and then hopefully open up a four hurdles in two weeks."
Galpin, coached by University of Bath Head Athletics Coach Colin Bovell and Tom Druce, followed up her victories over 100m and 200m at another Guernsey meeting two weeks ago by clocking a rapid 39.87 in the 300m.