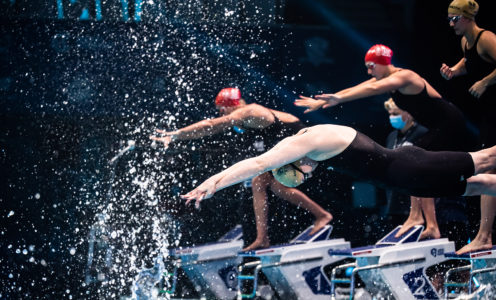 University of Bath-based Freya Anderson was in fantastic form on her first appearance in the 2020 International Swimming League (ISL) as she helped inspire London Roar to a second successive victory in Budapest.
Anderson, who this summer joined the British Swimming National Centre Bath squad at the Team Bath Sports Training Village, recorded rapid split times as Roar picked up a maximum 24 points in both the women's 4x100m freestyle and the 4x100m medley relays on day one.
She also finished runner-up in the women's 50m freestyle as Roar opened up a dominant lead at the halfway point of their match against LA Current, Tokyo Frog Kings and DC Trident.
Anderson, coached by David McNulty, produced another strong finish when she returned to the pool the following day, recording a stunning sub-28 second final two lengths as she touched only narrowly behind the in-form Beryl Gastaldello in the 100m freestyle.
Two excellent days of competition were capped when University of Bath alumna Anna Hopkin anchored a mixed 4x100m freestyle relay quartet also featuring Anderson to another second place, ensuring they were able to keep LA Current at bay in the overall standings.
It has been a busy week of ISL action, with Matt Richards – who also joined the National Centre Bath squad this year – impressing for New York Breakers in their match, while Sports Performance graduate Jay Lelliott raced four times for Toronto Titans on their ISL debut.
Picture credit: ISL/Mike Lewis