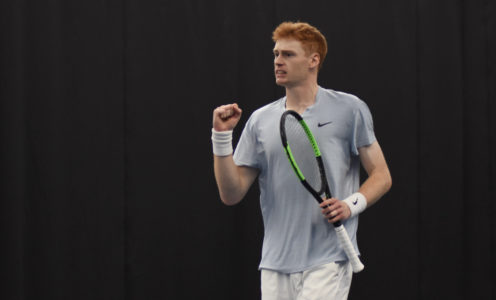 University of Bath alumnus Ben Jones won through to the semi-finals of the televised UK Pro League tennis tournament taking place this week at the Team Bath Sports Training Village but has since had to withdraw.
Previously, undefeated Jones, who is making his debut in the series, came through from the groups after a tough three-set win over David Quayle on Wednesday.  He was the first man to progress this far.
"It's a fantastic event", said Team Bath Head Coach, Iain MacDonald of the Series whose women's title was won by Emma Raducanu last year..  "It's been great to see so many Bath players involved – six in the men's and two in the women's.  Ben's played well and has been undefeated and he had a good win against Billy Harris who, of course, won the last men's title in the series.
"For our players it's been a good opportunity to play against senior opposition at their home venue'.
MacDonald was full of praise for the event itself which he sees as great preparation for all of the players including Jones who has a run of three Futures tournaments to play soon.  "It's been a really solid preparation week for him and he's been undefeated, which is good".
The semi-finals take place on Saturday in an event which is designed as a series to give top British players, who are aspiring pros, to gain consistency of competition at a good level.
Many matches are being streamed live here:  https://www.ukproleague.tv/fixtures. Team Bath players in action include:
Men: Ben Jones, Luke Johnson, Adam Jones, David Quayle, Giles Hussey, Matthew Rutter (still a junior)
Women:  Amy Leather, Hannah Smith
Team Bath Tennis, who yesterday announced Halo as its official Hydration Partner, has a thriving tennis programme and more details can be found here:   https://www.teambath.com/sport/tennis/. Team Bath strives to create a unique tennis environment from tots to touring pros.
The University of Bath was named the 2020 University of the Year at the national LTA Awards.