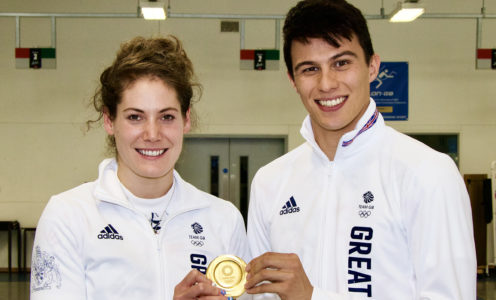 University of Bath alumni and reigning Olympic champions Joe Choong and Kate French were once more in medal winning form at the weekend's world cup in Ankara, Turkiye, taking gold and bronze respectively in their individual events.
A second individual gold came from another Bath Alumna Jess Varley who also trains at the University of Bath Sports Training Village alongside Choong and French and for whom this was a debut individual world cup gold.
Varley was denied a second medal of the weekend when she and Henry Choong (younger brother of Joe) narrowly missed out on bronze in a sprint finish to the mixed relay event.
Varley started the day in 18th place and was 13th going into the final discipline but produced an incredible performance – her laser-run time of 11:08.86 being 25 seconds faster than anyone else in the field – to turn a 54-second deficit into a four-second victory.
"I honestly can't believe it," said a beaming Varley. "I was just planning on running as hard as possible and trying to shoot well, which I did. I came out of the range on the last shoot in first place and I didn't know what to do!
"I feel like I have been working at this for so long. I've always known it was possible, so for it to finally happen and win gold – I'm ecstatic."
French added: "I'm very happy to be on the podium and a little surprised, to be honest. It's my first competition since Tokyo and in the new format so I really had no idea what to expect."
After winning silver on his World Cup return in Bulgaria last month, Tokyo gold-medallist Choong went one better this time round in the men's final after performing consistently across all the disciplines. He went into the laser-run in second place and produced a controlled display to stay in the leading pack before outsprinting his medal rivals during an exciting climax.
"It's great to be back on top of the podium," Choong told UIPM TV. "It was a great race, Csaba [Bohm] and Giorgio [Milan] pushed me harder than I have been pushed for a long time."