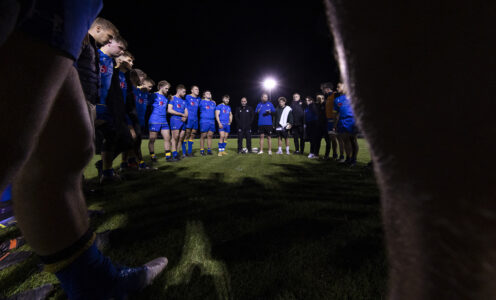 Team Bath's opening match of the 2022-23 BUCS Super Rugby season ended in a frustrating single-point defeat as Cardiff claimed the spoils from the last play of the game at the Team Bath Sports Training Village. 
An 800-strong Freshers' Week crowd saw the men's 1st XV, sponsored by Bath Building Society, battle back from a 17-7 half-time deficit to lead 21-17 as George Doel and Max Pearce added to an early try from co-captain Alfie Garside, Freddie Longley converting all three.
However, a fumble inside the Cardiff half allowed the visitors to launch one last period of pressure which Team Bath looked to have survived until an error from a scrum led to Oscar van Deventer going over for the decisive try which sealed a 22-21 win for Cardiff.
Aaron James, Head of Rugby at the University of Bath, said: "It's a disappointing finish to what had been a really good night in front of a massive crowd.
"The most frustrating thing is we didn't get rewarded for the effort we put in after climbing back into the game. We cost ourselves in the end. They broke out from our half but we produced some outstanding defending to keep them out, then won a scrum but lost it.
"The boys have been outstanding building up to this game through pre-season and this experience will bond us together even more. They're a top bunch who are really keen to work for each other, we've just got to tidy up a few bits and we'll be firing."
Team Bath, who are also supported by Rengen, got off to a strong start and dominated the opening stages, their early pressure on the Cardiff line leading to co-captain Garside gleefully scampering over for the opening try in the sixth minute.
Longley's conversion made it 7-0 but the lead only lasted a couple of minutes as Cardiff's first period of possession ended with centre van Deventer burrowing over for a try and Ed Dunford adding the extras.
Team Bath had an opportunity to restore their advantage but Cardiff were able to wrestle the ball away on their own line and clear the danger. The visitors then gradually assumed the ascendancy, kicking into space to good effect to put the home side on the back foot.
Two tries in three minutes just after the half-hour mark gave the vocal visiting contingent plenty to cheer. First Cardiff winger Rhydian Williams produced a fantastic turn of pace to score in the corner, then Team Bath lost possession as they tried to run the ball out of their own 22 and play was worked from one side of the pitch to the other for Dunford to touch down.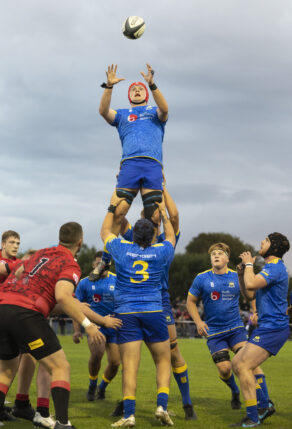 Both conversions were missed, though, which meant Cardiff's half-time lead was 17-7.
Team Bath needed a good start to the second half and they got it when number 8 Doel hit an inside pass at pace and broke through the Cardiff defence to touch down under the posts, leaving Longley with a simple conversion.
The home side were now on top and they regained the lead in the 63rd minute after unleashing their trademark lineout drive for the first time this season, the unstoppable pack rumbling over for replacement prop Pearce to touch down. Longley's third conversion of the night put them 21-17 up.
It remained that way until a couple of minutes to go when a fumble inside the Cardiff half allowed the visitors to launch one last period of pressure. Team Bath survived a couple of scares, winger Byron Gilmour stopping a charge from his opposite number just short and the home defence brilliantly turning the ball over on their line.
Victory was within touching distance when they subsequently earned a scrum but Cardiff were able to steal it and, after replacement Jamie Murray was sin-binned for a high tackle, the visitors' relentless pressure told as van Deventer went over in the corner to spark jubilant celebrations from the travelling fans.
Team Bath now have two away trips, to Leeds Beckett and Hartpury, before returning to the Sports Training Village on Wednesday 19th October to face Cardiff Met (6.30pm, free entry).
They then head to The Rec, the city-centre home of Bath Rugby, on Wednesday 26th October for the return of the Rengen-sponsored Anniversary Game. League champions Durham will provide the opposition for the University of Bath student-sport showcase and free tickets are available now – go to teambath.com/Anniversary-Game to register.
Match stats
Team Bath starting XV: 1 Scott Kirk, 2 George Studdard, 3 Josh Cilia, 4 Eddie Erskine, 5 Haydn Barnes, 6 Tom Berry, 7 Tom Williams (c), 8 George Doel; 9 Archie Friend, 10 Freddie Longley, 11 Byron Gilmour, 12 Ethan Hawtin, 13 Alfie Garside (c), 14 James Pavey, 15 Luca Mignot. Replacements: 16 Max Pearce, 17 Zak Giannini, 18 Archie Griffin, 19 Emyr Jones, 20 Lachlan McGrigor, 21 Elis Horgan, 22 Jamie Murray, 23 Sam Mercer.
Tries: Garside, Doel, Pearce.
Conversions: Longley 3.
Cardiff starting XV: 1 Ed Thompson, 2 Ben Chapman, 3 Adam Williams, 4 Ethan Phillips, 5 Alex Ashton, 6 Greg Ramage, 7 Gwilym Evans, 8 George Shaw; 9 Joshua Thomas, 10 Ed Dunford, 11 Rhydian Williams, 12 Oscar van Deventer, 13 Luke Pollock, 14 Luke Bray, 15 Felix Gilbert. Replacements: 16 Lewys Williams, 17 Theo Bevacoua, 18 Archie Callaghan, 19 Billy Moxey, 20 James Roberts, 21 Dai Jones, 22 Cam Scott, 23 Max Ashton.
Tries: Van Deventer 2, R Williams, Dunford.
Conversions: Dunford.
Referee: Iain Kiy.
Assistant referees: Ben Simpson, Dave Philpot.