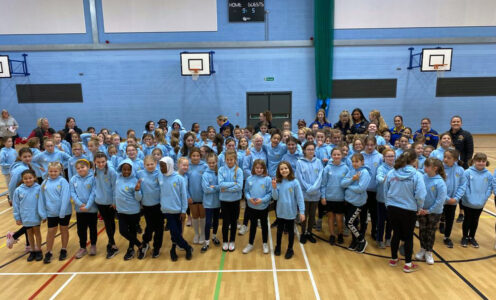 Team Bath Netball Super League players and coaches helped to deliver an empowering day of sport for young girls from Bath and North East Somerset.
The Be Inspired Netball Day was a collaboration between Team Bath, Prior Park College, who hosted the event, and St John's Foundation, one of the UK's oldest charities, and saw the Blue & Gold stars share their netball knowledge with Year 6 pupils from eight schools in the region, as well as the values of team-work and wellbeing.
Among the players delivering the workshops and on-court training was Lily Jones, who said: "The Be Inspired Day, which I was fortunate enough to be a part of, helped show me the importance of giving children from all backgrounds the opportunity to play sports and the ability to thrive in a positive environment.
"Sport is a significant part of my life and so I was very lucky to be able to extend that into the lives of others. It was clear to see the positive effect the experience had on the children, each thoroughly enjoying themselves and having the chance to step away from the stresses of schoolwork.
"This experience helped remind me of the importance of sport for both physical and mental health, something which the students hopefully also realised on the day."
Team-mate Kadeen Corbin said: "It was great that the kids could see role models to inspire and learn from. It was such a great partnership, and a fun and enjoyable day for everyone."
Lily-May Catling added: "I really enjoyed the day and personally gained a lot from it. I felt really inspired by the willingness and pure joy the girls demonstrated throughout the day, how much they learnt and grew with each session."
The schools involved are all supported by the St John's Foundation Fund.
David Hobdey, Chief Executive of St John's Foundation, said: "The Foundation Fund was set up with a really clear vision, that we would support disadvantaged children in Bath & North East Somerset to become happy, educated and healthy members of our community. This event saw them learn about team-work, wellbeing and great netball skills from the wonderful ladies at Team Bath, which I hope will inspire them to think about their own potential and how they might also aim high in life."
Find out more about St John's Foundation at stjohnsbath.org.uk and Team Bath Netball at netball.teambath.com.