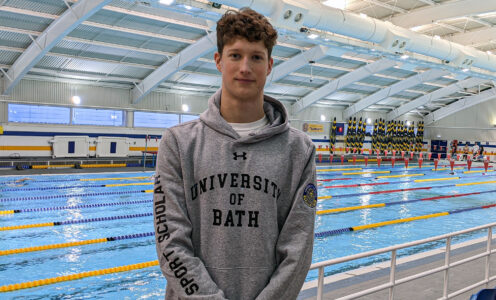 Sporting scholar Cameron Brooker won two medals and Commonwealth champion Brodie Williams secured three as University of Bath-based swimmers stepped up their World Championships preparations on the 2023 Mare Nostrum Swim Tour.
Mechanical Engineering student Brooker (pictured), supported by an Ivor Powell Scholarship, recorded both of his podium places on the first leg in Canet-En-Roussillon, placing third in the 50m backstroke and 2nd in the 100m backstroke.
British Swimming Performance Centre Bath training partner Williams finished just behind Brooker over 100m and was runner-up in the 200m backstroke, a result he repeated at the second leg of the international series in Barcelona.
University of Bath graduate Luke Turley narrowly missed out on a podium place in Canet, finishing fourth in the 400m freestyle, as did Sports Performance student Jono Adam in the 50m backstroke.
Olympic Champions Freya Anderson and James Guy also recorded fourth-placed finishes in their respective 200m finals in Barcelona.
Meanwhile, Santander Sporting Scholar Leah Crisp, who studies Economics and Mathematics at the University, was 25th overall and first Brit in the women's 10km race at the World Aquatics Open Water Swimming World Cup in Italy.
It was a first senior international open water competition for Crisp, who is aiming to be selected for her first World Championships this summer in Japan.
Mare Nostrum 2023 results
Canet-En-Roussillon (13th and 14th May)
Jono Adam – 4th 50m backstroke 26.04.
Freya Anderson – 5th 200m freestyle 1:59.62; 6th 100m freestyle 55.17.
Cameron Brooker – 3rd 50m backstroke 25.99; 2nd 100m backstroke 55.21.
James Guy – 5th 100m butterfly 52.60.
Jacob Peters – 5th 50m butterfly 23.63.
Luke Turley – 4th 400m freestyle 3:51.74; 7th 800m freestyle 8:08.00.
Brodie Williams – 2nd 200m backstroke 2:00.29; 3rd 100m backstroke 55.80.
Barcelona (17th and 18th May)
Jono Adam – 7th 100m backstroke 55.62.
Freya Anderson – 4th 200m freestyle 1:58.58; 8th 100m freestyle 54.90.
Cameron Brooker – 5th 100m backstroke 55.22.
James Guy – 4th 200m freestyle 1:47.98.
Ed Mildred – 8th 100m butterfly 53.85.
Jacob Peters – 8th 50m butterfly 23.95.
Luke Turley – 5th 400m freestyle 3:53.02.
Brodie Williams – 2nd 200m backstroke 2:00.03.