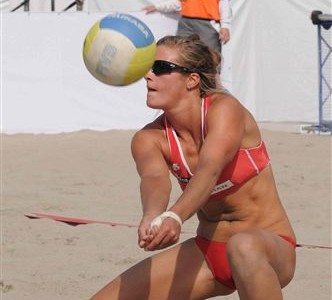 Four Bath-based beach volleyball players made their debut appearances at the World Championships in Stavanger, Norway.
Both Lucy Boulton & Denise Johns and Zara Dampney & Shauna Mullin contested the opening pool stages of the competition. They were the first British teams to compete at the beach volleyball World Championships for a decade.
British Volleyball's beach volleyball programme is based at the University of Bath.
Boulton and Johns started their campaign in pool E with a difficult contest against Brazilian five seeds Ana Paula Connelly and Shelda Bruno Bede. The Brits, who were seeded 44, went down 21-10, 21-10. The Brazilians went on to win the pool and then finish fourth overall in the championships.
Their second pool game saw them take on the Greek pair of Vasililki Arvaniti and Maria Tsiartsiani, seeded 20. The British pair battled well before going down 21-14, 21-17 in 38 minutes.
Their final game of the championships saw them play 29 seeds Sara Montagnolli and Barbara Hansel from Austria. This one was even closer, with the Austrians eventually running out 21-17, 21-18 winners in 40 minutes.
Boulton said: "We were disappointed to have lost all three of our pool games and not progress it into the second phase, the top 32-single elimination, but playing in the World Championships was an invaluable experience and hopefully the first of many for Denise and I."
The other British pairing of Zara Dampney and Shauna Mullin were seeded 45 for the championships. They opened their account in pool D with a tough match against four seeded Nicole Branagh and Elaine Youngs of the USA. The Americans took the contest 21-14, 21-13.
Next up for Dampney and Mullin were the German pair of Geeske Banck and Anja Gunther, seeded 21. The Germans took the contest 21-17, 21-18.
The Brits ended their campaign with a 21-12, 21-17 defeat at the hands of Martin and Lessard, the 28 seeded Canadians.
Both British pairs ended their first World Championship campaigns in joints 37th place.
The University of Bath has one of the leading university sports departments in the UK. Under its TeamBath brand, its success is based on the expertise and dedication of staff, and its excellent facilities, used by the community and Olympic medal winners alike.
Members of the media who require further information can contact the TeamBath Press Office at Matchtight Ltd on (01225) 383518 or 01225 443998 or see the TeamBath website at www.teambath.com
All photos – source FIVB
Posted: Wednesday 8 July 2009