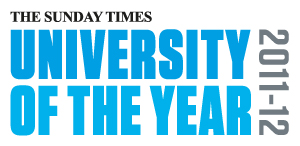 The University of Bath has been awarded the title of 'University of the Year 2011/12' by The Sunday Times, one of the most prominent and influential newspapers in the world.
The accolade is designed to recognise a university's all-round excellence, encompassing a range of aspects of research, teaching, employability and the student experience.
The formal announcement of the award will be made in The Sunday Times University Guide, which will be published in the paper this weekend (September 11).
In its 14th year of publication and with a readership of three million, the guide provides both a British university league table as well as profiles of all the UK's higher education institutions.
Read the full story on the main University of Bath website:
"Bath named as the "University of the Year" by the Sunday Times.