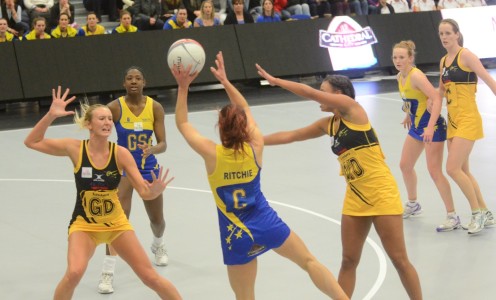 Team Bath's exciting new Fiat Superleague side were outgunned but not outclassed as they went down 45-55 to Northern Thunder in front of a big home crowd at the University of Bath tonight.
Coach Jess Garland experimented with a number of combinations as her side showed flashes of brilliance but also inexperience in their second defeat of the season.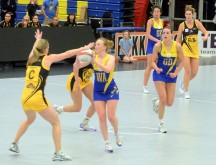 "This early in the season we need to know what options there are. Some of the combinations we tried are not as cohesive as others but against a side like Thunder who are tipped to finish in the top four we had to use the opportunity to get more players out on court", said Garland.
Neither team was dominant in the opening five minutes but Gemma Fletcher shone with some striking interceptions for Team Bath in the defensive circle.
"We started well in that opening quarter and finished the match well. Now we have to work on the middle section", said Fletcher of an encounter which was largely won by the visitors in the first and third quarters which they took16-9 and 16-8 respectively.
Thunder composed a four goal-surge midway through the opening quarter to lead 12-6, aided by their height and diligence in mid-court. The visitors' pressure also forced Team Bath into a trio of wayward passes to nowhere rather than into the hands of goal-shooter Kadeen Corbin.
The pattern continued in a less frantic second quarter with Corbin accurate once given the ball.  Conversely, lanky Janelle Lawson, at shooter for Thunder, started shakily but warmed to her task in the second quarter.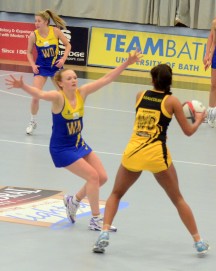 "There were some really, really good aspects for us. We played well for the first three quarters and all credit to Team Bath who really excelled in the final quarter. Maybe we stopped playing towards the end because of the score but we've got to work on that for the future", said a clearly delighted Tracey Neville, coach to Thunder.
Thunder moved to 21-12 and then 29-16 to put a seeming stranglehold on the match before half-time
Garland matched up Amanda Trounce, Welsh International, with Thunder's  England centre Sara Bayman, but the gap remained 10 goals or more through the quarter  until Team Bath stole six goals for only one reply to trail 22-30 at half-time.
Thunder piled on the misery for the home side in the third quarter stretching their lead to 43-27 with six minutes remaining of the quarter.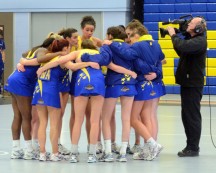 "You might say that I should have stuck with the line-up that brought the margin back to eight goals but I'm not sure even those seven players would have pushed on", said Garland.
Bayman combined well with Rachel Henry who came on at wing-attack.  And Neville, sister of the footballing Neville brothers, brought on experienced England shooter Karen Grieg to add agility and accuracy in the circle.
Garland subbed Katy Walsh for Becky Watkins at wing-defence and moved Asha Francis out into the mid-court at wing-attack, allowing her to bring on Kay Hayes at goal-shooter.
There were continued flashes of brilliance from Team Bath, particularly from Corbin, but the home side were consistently out-gunned and were 30-46 behind with 15 minutes left.
In a pulsating final quarter Teamm Bath rallied particularly in the final six minutes to pull back the deficit to 39-51 and 42-52, before going down 45-55 in a thrilling final few minutes of goal-to-goal action heralded by a chorus of African-style vuvzuelas from the partisan, noisy and big home crowd.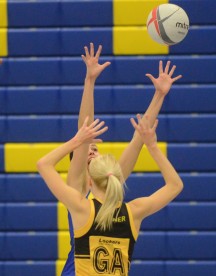 The young Team Bath side now face another tough home test against league leaders Surrey Storm on Friday night (3 February).
The pre-match entertainment on Friday gets underway at 7.15pm.
For a list of Team Bath fixtures please go to
Team Bath Netball Superleague.
To buy tickets for home games please go to Ticketline or call the Ticketline on 0844 888 4412.
For group bookings please call 0844 888 4420.
Quarter scores (Team Bath first): Q1:  9-16, Q2:  13-14 (22-30), Q3: 8-16 (30-46) Q4:  15-9 (45-55).
Team Bath starting seven: GS Kadeen Corbin, GA Asha Francis WA Amanda Trounce, C Mia Ritchie, WD Becky Watkins, GD Gemma Fletcher, GK Sam Cook.
Bench: Scarlett Williams, Kat Hayes, Kerry Walsh, Emily Rose, Kate McGinley
Changes Q2 Trounce to C from WA, Ritchie from WA to C, Francis from GA to GS, Corbin from GS to GA;  Q3: Cook from GK to GD, Fletcher from GD to GK, Ritchie from WA to C, Corbin from GS to GA, Francis from GA to WA, Hayes from bench to GS, Walsh from bench to WD, Watkins from WD to bench. Q4: Watkins from bench to WD, Francis from WA to GS, Ritchie from C to WA, Trounce from bench to C, Hayes from GS to bench.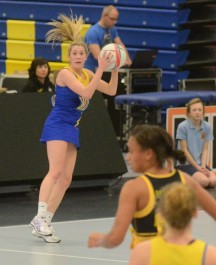 Coach: Jess Garland
Northern Thunder starting seven:
GS Janelle Lawson, GA  Kathryn Turner,  WA  Beth Cobden, C Sara Bayman, WD Laura Malcolm, GD, Emma Dovey, GK Kerry Almond,
Bench: Rachel Henry, Dani Bloomfield, Krista Enziano, Eleanor Caldwell, Karen Greig
Changes Q2: No changes;  Q3 `Lawson from GS to GA,  Beth Cobden from WA – Bench, Rachel Henry from bench to WA, Kathryn Turner from GA to bench, Karen Greig from bench to GS;  Q3 Henry from WA to bench, Bloomfield from bench to WA, Turner from bench to GS, Greig from GS to bench, Caldwell from bench to GD, Dovey from GD to WD, Malcolm from WD to bench.
Coach: Tracey Neville
Shooting stats
Team Bath:  Corbin 27 from 35, 79.41%; Francis 15 from 16, 93.75%;  Hayes 3 from 4, 75%.
Northern Thunder:  Lawson 35 from 46, 76.09%; Turner 13 from 17, 76.47%, Grieg 7 from 12.
For further information please contact the Team Bath press office at Matchtight Ltd on 01225 383518
The Full Team Bath 2012 NSL squad
Sam Cook (GD/GK)
Kadeen Corbin (GS/GA – Sports Performance student)
Kirsty Delves (GS/GK)
Gemma Fletcher (GK/GD)
Millie Grey (C – Coach Education & Sports Development student)
Kat Hayes (GS/GA – Sports Performance student)
Sasha Gaye Lynch (GK/GD)
Katie McGinley (GS – Coach Education & Sports Development student)
Yasmin Parsons (WA/C – Sports Performance student)
Mia Ritchie (WA/C – Sports Performance student)
Emily Rose (GD/GK – Pharmacy graduate)
Asha Tett  (GA/WA/C – Coach Education and Sports Development graduate)
Amanda Trounce (C/WA – Pharmacy graduate)
Kerry Walsh (WD/C)
Becky Watkins (WD/C – Sports Performance student)
Scarlett Williams (C/WD – Coach Educa