Superleague
Superleague semi-final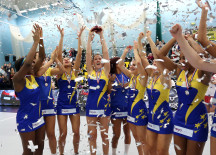 Team Bath topped the Showdown phase of the Superleague to book a home semi-final on Sunday 19 May.
Until 5pm on Thursday 16 May we have a buy one get one free offer on all tickets for the game – so book early at Ticketline.
Team Bath will host either Hertfordshire Mavericks or Manchester Thunder, depending who wins Thursday's fourth/fifth play-off. Watch this space! And see Coach calls on fans to cheer Team Bath into final for more details.
Team Bath TV interviews
Pamela Cookey and Mia Ritchie speak about Team Bath suffering their first home defeat of the 2013 season by 58-66 to Celtic Dragons at the University of Bath's Sports Training Village on Monday 29 April.
Watch > Pamela Cookey
Watch > Mia Ritchie
Jess Thirlby, Team Bath's head netball coach, praised her team's defensive strength against Surrey Storm on Monday 15 April after a phenomenal 65-39 victory. Team Bath TV also caught up with goal shooter Kadeen Corbin and wing attack Yasmin Parsons.
Watch > Jess Thirlby
Watch > Kadeen Corbin

Watch > Yasmin Parsons

Team Bath TV caught up with some of Team Bath's players before they headed off on international duty with England. See what they had to say about their tours and the forthcoming Superleague Phase Two.
Watch > Yasmin Parsons
Watch > Serena Guthrie
Watch > Stacey Francis
A champion club
Team Bath has a proud Superleague record, winning four of the  seven Superleague titles contested to date.
Team Bath brought the Superleague trophy back to Bath in 2006, 2007, 2009 and 2010.
They finished fourth in 2012 and made an impressive start to 2013 by winning the FastNet Grand Prix for the first time.
The team has an impressive track record of developing some of the country's most exciting and talented players, with an array of Team Bath players going on to play in England colours.
Four current Team Bath players – Pamela Cookey, Kadeen Corbin, Stacey Francis and Serena Guthrie – featured for England as they whitewashed world champions Australia 3-0 in the internat
ional test series at the start of 2013, with a further six former Team Bath players either getting court time or featuring in the squad.
Team Bath is coached by Jess Thirlby.
Team Bath is dubbed the "University of Netball' for its proud history of developing young players into major national talents. Many young players combine netball training with studying at the University of Bath.
Who's who? Player profiles
Click on the photos below to view individual profiles or see the full 2013 Superleague squad on our dedicated squad web page.