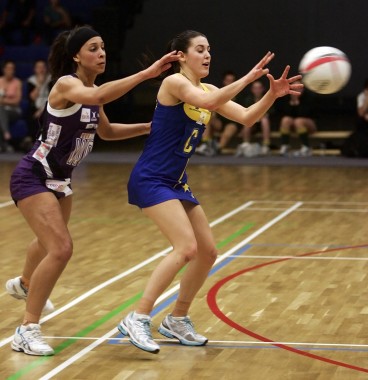 Team Bath's young Fiat Netball Superleague side twice led visitors Hertfordshire Mavericks but could not convert, going down 48-51 in one of the season's crunch Games.
Both sides wanted the win to stay in the top three of the League's top tier, behind leaders Northern Thunder and second-placed Surrey Storm, with two matches to play before the knock-out phases.
Team Bath started with passion and tracked Mavericks in the early phases. A couple of wayward passes and a missed shot from Bath's goal-shooter Kadeen Corbin saw the home side slip to 6-11.
They battled back to 12-12 with 90 seconds to spare of the quarter before Mavericks snatched a late goal to go to the break at 13-12.
In the second quarter Corbin moved to goal-attack and the home-side centre-court worked tirelessly to flatten the impact of the more experienced Sasha Corbin (sister of Kadeen and an ex-Team Bath player) and Camilla Buchanan – the Mavericks' captain.
Slowly Team Bath edged ahead and led 25-20 and then 26-22 with three and a half minutes to go before Mavericks pulled back to 26-26 – in a period which saw home-side wing-defence Scarlett Williams aided off the court through injury to be replaced by Becky Watkins.
"When we are ahead we need to learn how to turn the knife and convert a five point lead to an eight point lead because you know that sides like Maverick are going to come back at you", said Team Bath captain Asha Francis who clocked up an 83% success rate on attempts at goal.
This time it was Team Bath's turn to snatch the advantage in the dying seconds and go into the half-time interval at 27-26. Home team goal-keeper Sam Cook, called into England's U21 training squad recently, was the outstanding player of the half for Team Bath but Mia Ritchie and Amanda Trounce both played robustly in an at-times physical encounter.
In a see-saw third quarter in which both sides showed touches of brilliance Team Bath once more took the lead at 34-31 but were again pegged back to 34-34 and 38-38 at three-quarter time.
"I know that the team played very well but I've got to admit to some frustration. It was like a bad case of "déjà-vu" from the time we played them before and lost by two goals.  We need to learn to play with confidence when we are ahead", said Jess Garland who was proud of her players even if disappointed at the outcome.  "The players were more cohesive as a unit than ever before and really worked out there on the court".
Perhaps after 50 minutes of frenzy it all came down to a three-minute period in the final quarter when Mavericks defended with ferocity to force three time penalty turn-overs from the home side.
"When they stepped up their defence we should have been running harder onto the ball, changing direction more clinically and getting back in there. We could have been a bit smarter", said Francis.
Those three minutes made all the difference as Mavericks moved into a three-point lead at 49-46 and with the sounds of coaches Maggie Jackson and Karen Atkinson screaming at their charges to "keep the ball" Mavericks held on to close the match out at 51-48.
When the two sides met in the earlier league phase, Team Bath also lost a thrilling encounter by just two goals – match described by Garland as one of the team's "best performances of the season". So tonight's contest was always set to be hard-fought.
Team Bath still have a chance of reaching the semi-finals. Their next home match is on April in a televised encounter with table-toppers Northern Thunder coached by the female member of the famous Mancunian sporting Neville siblings, Tracey Neville – a former England player and Commonwealth Games medallist.  Before that they face Mavericks once more, on April 21st, away.
For further details and ticket information, please see the Team Bath website at http://www.teambath.com/sport/netball/superleague/
For further ticket information please go to www.teambath.com/events/ticketline/
Meanwhile, the University of Bath will witness further top netball action on April 12th when England play Barbados at the Sports Training Village in a televised match which looks set to attract a capacity crowd in the 2000-seat Team Bath Arena.
Quarter scores (Team Bath first):
Q1:  12-13; Q2: 15-13 (27-26); Q3: 11-12 (38-38); 10-13  (48-51)
Starting sevens
Team Bath:
GS: Kadeen Corbin, GA: Asha Francis (capt), WA: Amanda Trounce, C: Mia Ritchie, WD: Scarlett Williams, GD: Gemma Fletcher, GK: Sam Cook.
Bench: Yasmin Parsons, Becky Watkins, Chantelle Wopara, Kate McGinley, Kat Hayes.
Q2 changes:  Francis to GS; Corbin to GA
Q3 changes:  Corbin to GS, Francis to GA.
Coach: Jess Garland
Hertfordshire Mavericks
GS Vicklyn Joseph; GA Alice Ewer ;WA Sasha Corbin; C Rose Morgan-Smith ; WD Camilla Buchanan (Capt); GD Naida Hutchinson;  GK Josie Huckle
Bench:  Lindsay Keable, Mikki Austin, Tallisa Haynes; Steffi Burt; Shaunagh Craig
Coach: Maggie Jackson, Karen Atkinson
Q3 changes:   Hutchinson from GD to GK; Josie Huckle GK – B, Lindsey Keable B – GK.
Shooting stats:
Team Bath
Kadeen Corbin: 35 from 44 (75%)
Asha Francis:  15 from 18 (83.33%)
Hertfordshire Mavericks
Joseph 42 from 56 (75%)
Ewer 9 from 21 (42.86%)
For further information please contact the Team Bath press office at Matchtight Ltd on 01225 383518 or by email at press@matchtight.co.uk

You can also find out more about Team Bath at www.teambath.com <http://www.teambath.com>  ,follow us on Facebook at www.facebook.com/teambath <http://www.facebook.com/teambath> or on Twitter at https://twitter.com/#!/teambath

The University of Bath is The Sunday Times University of the Year 2011/12.