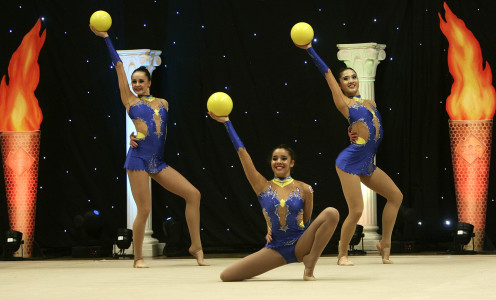 Hundreds of people turned out to show their support to the GB rhythmic gymnastics group and enjoy an inspirational evening of entertainment at Team Bath last night (Thursday).
And the group will receive a cash boost of almost £4,000 from the event to help them prepare to compete at the London 2012 Olympic Games.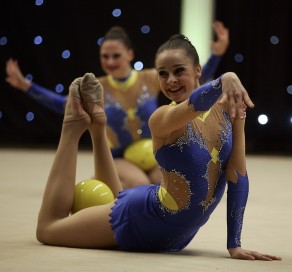 The group are completely self-funded – they receive no National Lottery support – and have been taking part in a range of fundraising activities to support their Olympic preparations.
Around 700 people attended the Celebration 2012 event, adding £3,845 to the group's coffers. The money will be used to help the group take part in competitions overseas and to fund much-needed equipment and kit.
The total included £540 from an auction of sporting memorabilia, with sports stars like Amy Williams, Jason Gardener, Ben Rushgrove, GB's modern pentathletes and Bath Intensive Training Centre swimmers providing items for auction. A ball used during a routine at the London test event and signed by the GB rhythmic group was the most popular item at the auction.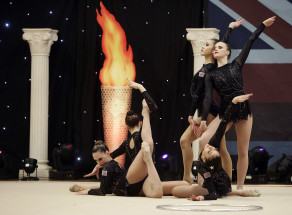 Amy Williams, Bath's Olympic Winter Games skeleton gold medallist, offered people the opportunity to be photographed with her and her Vancouver 2010 gold medal during the interval, raising a further £120.
Sarah Moon, coach of the GB rhythmic group, said: "I'd like to thank everyone for their support on the night. We were absolutely overwhelmed by the fantastic generosity that people showed. I would like to thank the organisers, the athletes who kindly donated items for the auction and everyone who turned up to show their support."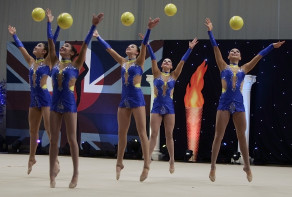 Stephen Baddeley, Director of Sport at the University of Bath, said: "It was a pleasure and a privilege for us to host the event. The GB rhythmic group are an inspiration and we're delighted to support them on their path to the Olympics."
The biggest cheers on the night were reserved for the GB rhythmic group themselves, who performed four routines. The group have trained full time at the University since last summer.
Entertainment on the evening also included performances by the City of Bath Rhythmic Gymnastics group, Weston Aerobics, Team Bath Evolution Trampoline, Baskervilles Gymn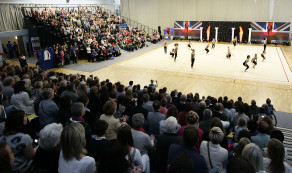 astics, Rhythmic South, Esprit and Air Trampoline, as well as by the City of Bath Bach Choir.
If you missed the event and would like to support the group, you can donate direct to them via Paypal at the group's website at http://www.gbrhythmicgroup.co.uk/
For further information please contact the Team Bath press office at Matchtight Ltd on 01225 383518 or by email at press@matchtight.co.uk
You can also find out more about Team Bath at www.teambath.com , follow us on Facebook at www.facebook.com/teambath or on Twitter at https://twitter.com/#!/teambath
The University of Bath is The Sunday Times University of the Year 2011/12.
Photos: Digitalscape