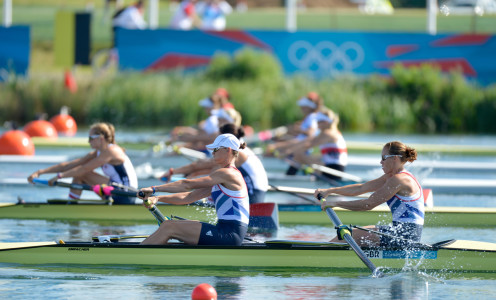 University of Bath graduate Heather Stanning and her rowing partner Helen Glover made a piece of history today (Wednesday) by becoming Britain's first women Olympic rowing gold medallists.
And it was a double success for the British pair, who also won Team GB's first gold medal of the London 2012 Olympics.
Heather and Helen learned to row through the GB Rowing Team's Start programme at the University of Bath.
They showed their intentions in Saturday's heats by setting an Olympic record for the women's pair.
And they went out hard from the start today, setting a blistering pace that left the other five boats in the final trailing in their wake.  The pair led from start to finish, taking gold in 7:27.13 – just over two and a half seconds clear of the Australians in front of a 26,000-strong crowd at Eton Dorney that included Duke of Cambridge, Prince Harry and the Princess Royal.
Staff, students and facilities users at the University of Bath cheered the pair on in front of the video wall at the Sports Training Village – just metres away from the gym where the pair trained.
Heather, a Sports Technology graduate, said: "I'm absolutely shattered and absolutely ecstatic all at the same time. I want to collapse but I'm just so overjoyed, I just want to jump around at the same time.
"We got out ahead and tried to stay there and then push on. We wanted to keep the margin."
Helen added: "If you work hard and try your best you can do anything."
Stephen Baddeley, Director of Sport at the University of Bath, said: "We're delighted for them. They started their rowing careers at the University of Bath and today they've become the first British women rowers to win an Olympic gold. It's fantastic.
"I'd like to pass on my congratulations on behalf of everyone at the University," he added.
Gabby Rodriguez, a University of Bath Sports Performance graduate, trained with Heather and Helen at the University and hopes to compete at the Rio Olympics in 2016.
She watched today's final on the video wall at the Sports Training Village.
"It was great to be here to watch a moment in history," she said. "I met the girls in training and four years later I've seen them win an Olympic gold medal today. I knew there was something special about the group at the time, but you never definitely know what will happen.
"But I wasn't worried at all today, I was completely confident in everything they had to do."
Biology student Maria Stack, who will be women's captain of Bath University Boat Club at the start of the new academic year, said: "It was amazing, we couldn't have hoped for anything better. Everyone here is so proud.
"It's definitely inspired me, so when I'm training hard in the gym the image of seeing them so far ahead will be in my head and that will help take us towards our goals."
Mike Lawrence, an 18-year-old rower who trains at the University, said: "I thought it was amazing – the first gold of the Games for Britain and the first GB women's rowing gold.
"It was good to see all the supporters up here and people who want to follow in their footsteps.
Their performances also impressed double Olympic champion James Cracknell, who is working as a BBC Sport analyst.  "The first rowing final ends with Great Britain's first gold. Don't panic, the rowers are here!" he said.
"They dominated their heat, they repeated that and stepped it up again. They had a good start and all season they have been showing they've got a strong middle part of the race. We're up and running."
University of Bath students Michael Jamieson and Andrew Willis will be in action in the final of the men's 200m breaststroke tonight at 7.30pm. They both train at the British Swimming Bath Intensive Training Centre.
For the latest information on athletes with University of Bath links competing at London 2012, go to our Olympic & Paralympic pages at http://www.teambath.com/sport/olympic-paralympic/
It includes biographies of selected athletes and also a schedule & results page. For the very latest news follow us on Twitter at https://twitter.com/teambath
For further information members of the media can contact the Team Bath press office at Matchtight Ltd on 01225 383518 or by email at press@matchtight.co.uk
You can also find out more about Team Bath at www.teambath.com , follow us on Facebook at www.facebook.com/teambath or on Twitter at https://twitter.com/teambath