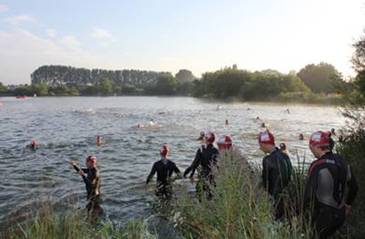 Athlete, Katie Synge, who studies Coach Education and Sport Development (now known as Sport and Social Sciences)
at the University of Bath, was crowned English National Champion at Triathlon England – National Triathlon Championships event (19 August) at Emberton Country Park.
Katie raced the fastest time (02:15:12) on the Olympic distance course in her age-group (20-24).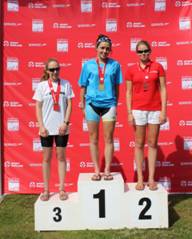 The sport of triathlon has shown a significant increase in people wanting to take part following the London 2012 Olympic Games, and with the Triathlon England – National Triathlon Championships taking place only a few weeks after the Olympic Triathlon, the race proved to be an inspirational event, and the perfect time for people to 'Give it a Tri' and support participants.
Katie Synge who studies in Bath, said: "It's a fantastic award to receive, and I'm delighted to have done well. I'm in training for elite races, so this is perfect preparation. I would advise people to get involved with their local triathlon teams as its so much fun and there is something for everyone out there."
Jem Lawson, Chair of Triathlon England, said: "The National Triathlon Championships has been a great success and is the perfect way to experience a triathlon event, whether you race or come down as a spectator. We send huge congratulations to all those who entered, and to those who were crowned worthy winners.
"We have been delighted by the positive response we have seen towards the sport over the past few weeks and it shows the sport is growing significantly. The great thing about triathlon is that it's open to every ability, each discipline – swimming, cycling and running is easily accessible to everyone, and the National Championship series highlights this message, with the range of abilities and reasons people have for participating."
The annual Triathlon England – National Triathlon Championships hosted by Big Cow Events took place on Sunday 19 August at Emberton Country Park.
The race consisted of a standard distance format, which started with a wave start 1,500m open water swim in the lake at Emberton Country Park, a 40km bike which was a challenging but scenic lap around undulating country roads and then onto a 10km run course, three laps of Emberton Country Park.
If you are inspired, and would like to 'Give it a Tri' in a fun team event, then spots are still available to enter the Triathlon England – National Club Championships.
If you would like to enter this event, please visit the Triathlon England website or contact the Triathlon England events team at events@triathlonengland.org
Or if you would like to join the University of Bath's Triathlon Club, see their web page for details.