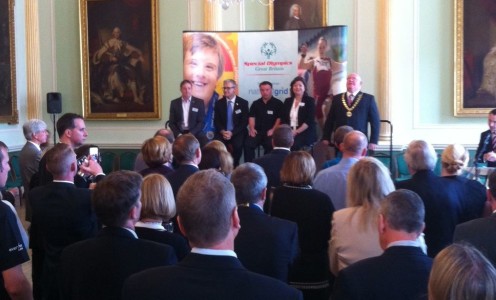 Bath will host the Special Olympics GB National Summer Games for the first time next year, with most of the 12-sport event taking place at the University of Bath, it was announced today (Tuesday).
Special Olympics GB is the largest registered charity providing year round sports training and competition opportunities for people with intellectual (learning) disabilities.
The 2013 National Summer Games will be held in Bath from Wednesday 28 August to Sunday 1 September.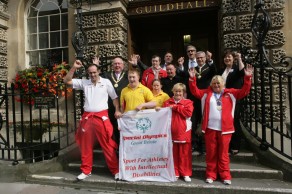 More than 1700 athletes will take part in 12 events – athletics, artistic gymnastics, football, boccia, badminton, short-mat bowls, golf, rhythmic gymnastics, table tennis, ten pin bowling, tennis and swimming.
The £30 million Sports Training Village will be the hub of activities, with nine of the 12 sports taking place there.
Karen Wallin, Special Olympics GB's CEO, said: "Over 1,700 athletes and 500 voluntary coaches – supported by a further 500 volunteers and estimated 5,000 family members – will be heading to Bath for our biggest national event which takes place every four years.
"This is a very significant sporting event and will require a large amount of assistance and energy from the local population to ensure the most successful and memorable event possible for our athletes, their families and the City."
Stephen Baddeley, Director of Sport at the University of Bath, said: "We're delighted that Bath is hosting Special Olympics GB's National Summer Games for the first time and we're naturally pleased that the most of the sport will be held at the University of Bath.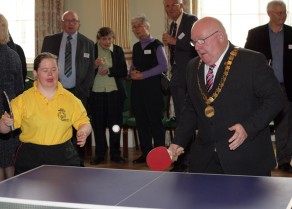 "We have a proven track record of hosting major sporting events. We're looking forward to working with the Special Olympics GB in the run up to the Games and to welcoming the athletes, organisers and supporters to the University for what I'm sure will be a fantastic event."
The University of Bath has an impressive track record of hosting major events, including the European Youth Olympics in 1995, the British University Games in 2004, the British Transplant Games in 2006 and 2010 and the UK School Games in 2008.
The University also played host to a range of preparation camps in the lead-up to the London 2012 Olympic and Paralympic Games, including for the Paralympics GB team, the Chinese Olympic swimming team and the Malaysian Olympic badminton
Special Olympics GB's National Summer Games is the showpiece event every four years for the organisation and its athletes.  Almost 1.2 million people in the UK (2% of the population) have an intellectual disability. Next year's event will be the ninth National Summer Games.
In this country, Special Olympics Great Britain (SOGB) serves over 8,000 registered athletes annually through almost 150 volunteer-led local clubs and 19 regions.  SOGB is a registered charity and is supported annually by individual and corporate donations.
The year-round sports coaching and events provided by Special Olympics are clinically proven to positively change the quality of lives for people with intellectual disabilities.
Research from Canterbury Christchurch University showed that those who did participate in Special Olympics had a higher self-esteem than those who did not take part. Higher self-esteem leads to more feelings of self-worth and more self-care. Findings also concluded that those involved in Special Olympics had wider social networks and lower stress levels.
You can find out more about Team Bath on our website teambath.com
You can also follow Team Bath on Twitter at twitter.com/teambath or facebook.com/teambath
For further information please contact the Team Bath press office at Matchtight Ltd on 01225 383518.