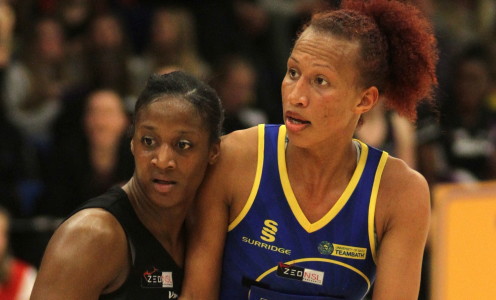 Team Bath's Zeo Superleague Head Coach Jess Thirlby is determined that her players should take "every piece of learning possible" from a topsy-turvy 49-49 home draw against Hertfordshire Mavericks.
The home side turned round a seven-goal deficit at half-time to lead 48-46 with under three minutes to go at the University of Bath Sports Training Village.
A couple of unforced errors and a missed final-second attempt on goal allowed Mavericks to sneak back and snatch a point.
"We are bound to be disappointed, having been up", said Thirlby.  "But as a coach I can also see the positives and that the changes I made after half time had the impact we needed. These kind of games have got to be a benefit to us and we need to draw on it for our final two matches.
"Everybody, even the experienced players, will be reflecting on the "one thing" they could have done better and all those "one things" can add up and help us going forward".
Mavericks came into tonight's fixture on the back of a thumping 71-35 win over Loughborough. Team Bath had bounced back from a home defeat against table-toppers Surrey to beat Manchester Thunder away.
When the two sides last met only a last minute goal from Team Bath secured the victory.
Today's encounter proved just as pulsating for the packed home crowd.
Mavericks with five former Team Bath players in their line-up looked to have the advantage at the outset, going 1-5 up.  Slowly Team Bath turned the momentum in their favour and came back to level at 5-5 after four and a half minutes.
From there the sides traded goals with each centre pass.  At 10 apiece the pressure began to tell with both teams making errors.  Mavericks had the advantage with 26 seconds to go of the quarter  at 12-12 but a wayward pass in the mid court allowed the home side to snatch the ball back and surge into attack.
With ten seconds of the first period remaining Bath student Rosie Allison missed and whilst Cookey collected the rebound the whistle went before she could shoot.
The second quarter was a see-saw affair.  Team Bath went ahead for the first time early in the quarter and led 16-14 and 17-15. From there Mavericks mounted a pacey and aggressive come-back to go five goals ahead at 19-24 with four minutes to go before closing out the half 22-29 ahead.
Two early misses in that second quarter – one apiece from the home shooters – tipped the momentum int the visitors' favour.  Former Team Bath players and England sisters Sasha and Kadeen Corbin proved a super-effecitve combination for the visitors, linking up as wing attack and goal-shooter respectively.
Thirlby rested Sarah Penny for quarter three and brought on England defender Stacey Francis for the first time in four matches. .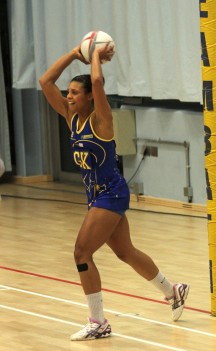 Playing goal-keeper Francis showed few signs of ring-rustiness after two recent bouts of eye surgery.
She made an immediate impact with an intercept to create turn-over from which Allison scored to move Bath to 23-30.
A second turn-over took Bath to 24-30 and then 25-30.   Team Bath struck a more fluid patch to pull back to 29-31 and 30-33 although they were twice penalised somewhat bizarrely around their defensive circle on what had seemed like turn-over ball.
Guthrie began to neutralise the impact of Sasha Corbin in attack, so interrupting the flow of ball into the Mavericks shooters.
With every phase the home side's confidence grew and saw them execute a remarkable turn-round to lead 40-37 at three-quarter time.
Mavericks coach and former England player Karen Atkinson made a number of changes for the final quarter and called a time out but Bath clung onto their lead with the help of important turn-overs from England captain Pamela Cookey at goal-attack and Guthrie at centre.
With two minutes and 52 seconds left on the clock the home side were leading 49-47.  A frantic scramble by both sides saw Maverick benefit from a turn-over against Guthrie to draw level at 49-49.
Team Bath had the final centre-pass with 20 seconds left and got the ball to Rosie Allison who was penalised but missed that crucial final shot.
"Our fans should be very proud still", said Thirlby.  "We didn't lose and I think we are on the cusp of something special now".
Francis also had mixed emotions after the game.. She said:  "I am disappointed that we didn't win. But on a more personal note I am pretty happy to be back and I felt comfortable on the court".
The run down to the play-offs will still be tough for Team Bath. They face Yorkshire Jets at home next Thursday (3 April) and Jets will come into that match after a narrow one-goal defeat to Manchester Thunder.  The Sky TV cameras will be there to record the action and tickets are still available for the match.
Team Bath's  final home match will be four days later (April 7) against Loughborough.  The top two teams at the end of the "league phase" will have the benefit of home semi-finals.
Carter Jonas are Team Bath Netball's property partner, Surridge are the Team Bath kit supplier and Skins provide the team with compression wear.
Quarter scores (Team Bath first):
Q1:  12-12  Q2:  10-17 (22-29) Q3:  18-10 (40-37); Q4:  9 – 12 (49-49)
Starting sevens
Team Bath
GS: ,Rosie Allison GA: Pamela Cookey, WA: Amanda Trounce, C: Serena Guthrie, WD: Mia Ritchie, GD:  Ursula (Billy) Pritchard, GK: Sarah Penny
Bench: Stacey Francis, Sophie Masterson, Kate McGinley, Jenna Murie, Yasmin Parsons
Changes:  Q3:  Penny to bench, Francis to GK; Guthrie – C, Ritchie  – WD.
Coach:  Jess Garland, Assistant coaches:  Denis Ellis
Hertfordshire Mavericks
GS Kadeen Corbin, GA Sophie Hankin, WA Sasha Corbin (Capt), C Rose Morgan Smith, WD Camilla Buchanan, GD Sam May, GK Layla Guscoth
Bench:  Mikki Austin, Sarah East, Josie Huckle, LIndsay Keable, Vicklyn Joseph
Changes:  Q3  Sarah East – GA, Hankin – B; Q4:  Buchanan – WD – C, Guscoth GK – GD, Keable B –  GK, May – B, Morgan Smith – B
Coach Karen Atkinson, Asst Coaches:  Kat Ratnapala
Shooting Stats
Team Bath: Allison 33 from 40, 82.5%  Cookey 16 from 17 – 94.1%
Hertfordshire Mavericks:   K Corbin 25 from 32  – 78.1%, Hankin 18 from 23 – 78.2%, East 6 from 8 – 75%
Tickets for the remaining  2014 matches are available now. For a full list of fixtures and for ticket information please go to http://www.teambath.com/sport/netball/fixtures-results/
You can find out more about Team Bath on our website teambath.com
You can also follow Team Bath on Twitter at twitter.com/teambath or facebook.com/teambath
You can follow Team Bath netball at twitter.com/TeamBathNetball
For further information please contact the Team Bath press office at Matchtight Ltd on 01225 383518 by email at press@matchtight.co.uk