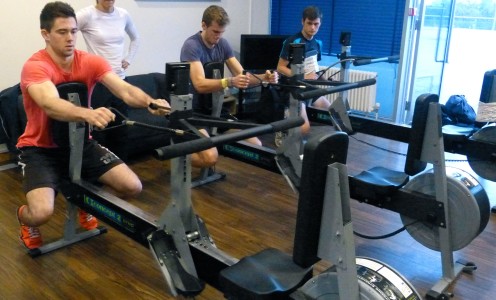 Dozens of would-be rowers were put through their paces in a series of gruelling tests at the University of Bath to see if they can take the next step towards representing Great Britain at a future Olympic Games.
The session was part of the GB Rowing Team's Start talent identification programme, which aims to identify athletes that could follow in the footsteps of the likes of Olympic gold medallists Heather Stanning and Helen Glover.
The pair learned to row on the Start programme at the University of Bath and Minerva Bath Rowing Club, and went on to strike Olympic gold at London 2012.
Some 33 athletes with backgrounds in a wide range of sports including athletics, canoeing, cricket, football, hockey and netball, took part in the talent ID session, which tested strength and endurance.
Solid scores
Dan Harris, Talent Development Coach – Bath for the GB Rowing Team's Start Programme, said it was a good turnout in both quantity and quality.
"There were a lot of solid scores and a few that obviously stood out," said Harris.
"We'll be doing some further analysis on the results to decide who goes forward to the next stage," he added.
Among those taking part in the session were first year University of Bath students Jack Possee and Andrew Trick, who joined the Bath University Boat Club on arrival at the University, but had no previous rowing experience.
Possee, a Sport and Exercise Science student and former club swimmer, said it was a tough test.
"It was gruelling, I've never been that physically tired in my life before," he said. "I really hope to get to the next stage. If I don't make it this year I'm going to work as hard as I can and have another go next year."
Possee said he was lured into having a go by the prospect of competing at a future Olympics.
"It would be a privilege to represent your nation. It's a completely different experience to representing a club," he said. "I wouldn't have had this kind of opportunity at many other universities."
Opportunity
Trick, a Sport and Social Sciences student and footballer, said: "I've used a rowing machine in the gym, but I've never rowed properly before. When I came to university I thought it would good to try something I've never done before. It's also been a really good way of meeting lots of people.
"This was a really good opportunity," he added. "I enjoyed taking part in the tests and I hope I get through."
The results from the tests are now being analysed and all of the participants will be sent information on their scores.
The most successful athletes will be invited back to train with the Start group at the University for three or four months to see whether they are suitable to progress on to the programme full-time.
For further information about the GB Rowing Start programme at the University of Bath please see the rowing pages on the Team Bath website.
For further information about sport at the University of Bath please contact the Team Bath press office at Matchtight Limited on 01225 383518 or press@matchtight.co.uk