It has been a year to remember for University of Bath hockey players past and present, including domestic titles, international appearances and Commonwealth Games call-ups.
The university's men topped the British Universities and Colleges (BUCS) Southern Premier Division, while Team Bath Buccaneers' 1st XI were crowned as NOW:Pensions Men's Conference West champions after losing just once all season.
Sports Performance student Sam Hatherley and Matt Ming, who is studying Natural Sciences, were rewarded for their part in those achievements with a call-up to the England under-21 squad, along with Buccs team-mate Liam Sanford.
Establishing himself as England's senior goalkeeper this season is James Bailey, one of five former Buccs players to have helped Wimbledon win their first-ever NOW:Pensions Premier Division title.
Also in the triumphant team were Sports Foundation graduates Jonny Kinder and George Farrant, the latter a former University of Bath captain, and Belgium under-21 international Loic Cerulus.
Completing the famous five was Phil Ball, a Coach Education graduate, pictured, who scored in Wimbledon's stunning 8-5 victory over favourites East Grinstead in the Premier Division final.
It completed a journey to the top which began when Ball – who has also won titles in Australia and Germany – signed up for the University of Bath hockey club during fresher's week back in 2006.
"I came to Bath when I was 19 having played for Chichester, a very small club, and a tiny bit of representative hockey," Ball recalled.
"I was more into football really but thought I'd play a bit of hockey. I signed up in my first week and did well, getting in the 1st team for the university, but I was very much playing 2nd XI for Buccaneers.
"Then Jody Paul joined as head coach and he gave me my first opportunity in the Buccs 1st team – I have not looked back since.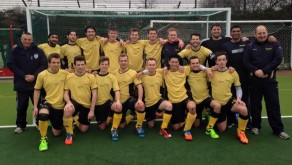 "I have gone on to have a great career and I definitely owe Jody a huge credit. He can be quite strict and tough sometimes but when he sees potential in you, like he did with me, he makes sure you develop it.
"I wasn't the most academic of pupils but I fully embraced the environment at the University of Bath – sporting and educational – and that has given me many great opportunities. I have travelled and worked abroad, and it also helped me achieve my potential as a sportsman."
Ball also believes the nurturing environment at the Sports Training Village ended up having an influence on Wimbledon's historic title success.
"We grew a bond of friendship at Team Bath and that spirit has really helped us at Wimbledon," said the England A international.
"That togetherness makes a real difference when you get to the semi-finals and finals. It's always nice to enjoy success with your friends.
"We have a really good relationship with the University of Bath at Wimbledon and we are looking to create even stronger links in the future."
Another former University of Bath player to feature in the end-of-season play-offs was Sports Foundation graduate Lewis Prosser, who helped Surbiton finish third overall.
He had started the season by representing Wales at the Glasgow 2014 Commonwealth Games, along with Mechanical Engineering graduate Ben Carless.
Zoe Shipperley, a Sports Foundation graduate, represented England in Glasgow and helped Buckingham retain their Premier Division status.
Shipperley is a former University of Bath women's 1st XI captain, as is Harriet Pearce – she was the first female Bath student to be called up to the senior England squad back in 2009 and this year helped Clifton to the runners-up spot in both league and cup.
Beating Clifton to silverware on both occasions was a Surbiton side featuring Coach Education and Sports Development graduate Sandra Frankland, a Hong Kong international.
Jody Paul – hockey head coach with the University of Bath and England U18 Boys, as well as assistant head coach with England U21 Men – is delighted to see so many Team Bath alumni go on to enjoy success.
"I am extremely proud," he said. "Athletes like Phil, George, Zoe and many others who have achieved honours while at university, and also when they have moved on, serve as role models to our current athletes.
"I have no doubt that their time at the University of Bath has equipped them with the necessary tools to continue to develop as hockey players and as individuals.
"We aim to deliver a program which caters for all which provides a positive student experience."