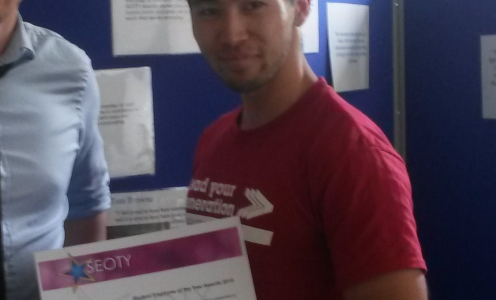 Team Bath offers a plethora of opportunities for students; they can train, compete and socialise as athletes – but they can also gain valuable experience as a coach.
Opportunities include working with Tribe – Team Bath's dedicated youth sport programme – to help young athletes not only develop their talent, but also use sport as a tool for learning key social skills that will serve them for the rest of their lives.
One such student coach is Takumi Nishida, whose contribution as a Tribe coach earned him the Student Employee of the Year award in 2015 for his "outstanding" contribution to Tribe during his degree at the University of Bath.
"Winning was unexpected but felt good – it's something I can put on my CV," he said. "But I don't see working as a Tribe coach as a job; I see it as something I enjoy doing and the award was just an extra bonus. "
Sport and Exercise Science graduate Takumi is eyeing a career as a strength and conditioning coach and had already secured placement work within Team Bath's strength and conditioning team, but that didn't discourage him from seeing the benefits of working as a Tribe coach too.
"Even though working as a Tribe coach is a little bit different to the strength and conditioning career I'm looking to pursue, it's a great way to upgrade my coaching skills and it has allowed me to work with a range of sports," he added.
"With Tribe I work with sports like athletics, judo, hockey and football with an age range of any children under the age of 18. It's a good challenge to work with different ages – it teaches you lots of different skills."
But for Takumi, Tribe wasn't just an opportunity to bolster his CV. Mentoring children through their early years whilst developing their sporting ability holds similar weight for the Bath graduate.
"It's massively satisfying to watch the children develop their talent and progress as athletes," he said. "But we also use sport as a tool to help children socially.
"I see some of the kids who are very shy on the first day but through the term and a year down the line you can see them become relaxed and start making friends, and that's sometimes more important than becoming a top athlete."
Takumi works throughout the week to provide Tribe children with a platform to learn important skills and make friends – a job he admits is made far easier thanks to the outstanding facilities at the Sports Training Village.
"Facilities-wise we have everything we can ask for. If it's sunny we might go outside and play football or do athletes. If it's raining we have the indoor facilities to come inside and do exactly the same. Whereas the weather can sometimes be a barrier, the facilities here have never been.
"Then you have Olympic-standard athletes training right alongside the children. Just the presence of top athletes training alongside the kids gives them hope. Even if the children don't recognise who the athletes are, seeing the kit and the training is inspirational to them."
Getting involved in Team Bath's student coaching opportunities is easy – simply visit www.teambath.com/t-d/student-opportunities