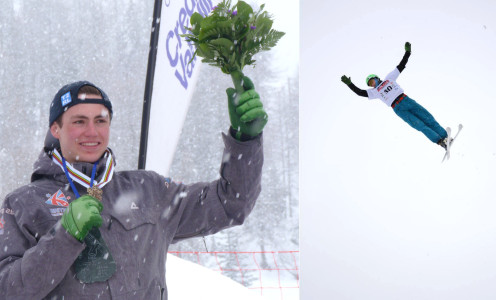 After making history during 2015, University of Bath sporting scholar Lloyd Wallace has been working on a new move as he looks to continue his progress on the international aerial skiing stage.
The Sports Performance student, who won Britain's first-ever Europa Cup Aerials gold last year, has been hard at work in the world-class Sports Training Village gym and on the ski slopes of Switzerland as he prepares for the 2016 campaign.
"I did triples [somersaults] on snow for the first time last season and they went really well," said Wallace, who is supported by a Santander Sports Scholarship.
"There are simple triples but I have been training all summer on triple twisting triples – that would put me up there with the best in the world hopefully."
In his interview with Chemmy Alcott, Britain's number one female alpine skier, Wallace also talks about the strength and conditioning support he receives at the University of Bath, the adrenaline rush his sport provides and going into 'robot mode'.