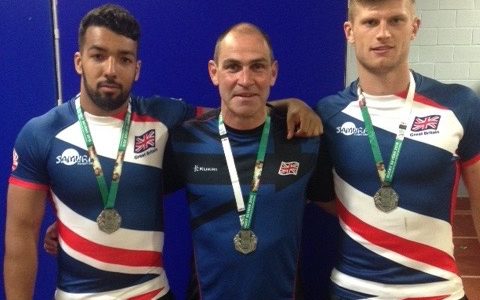 University of Bath rugby players Zack Henry and Patrick Jenkinson helped Great Britain's men win a silver medal at the FISU World University Rugby Sevens Championships in Swansea.
They were only denied gold by an Australian try from the last move of a dramatic final, which saw the British team – who had led 20-19 when the buzzer went – edged out 24-20.
Jenkinson, who has played for Bath Rugby's United XV and graduated in Mathematics this summer, scored the opening try in the final and was also on the scoresheet as GB earned a hard-fought 10-7 win over France in the semi-finals.
Henry – who finished his Sports & Exercise Science studies this year and has signed a professional contract with Stade Rouennais in France – had impressed with the boot during the group stages, which also saw GB finish runners-up to Australia in Pool A.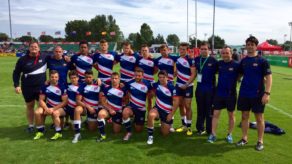 He kicked conversions as GB overpowered the Czech Republic 59-0 and beat Italy 35-10 on the opening day. They then lost 19-12 to Australia but bounced back with a 31-5 win over Namibia in a highly-physical encounter.
Aaron James, Head of Rugby at the University of Bath and GB men's assistant coach in Swansea, said: "Pat and Zack both played strong roles in the side's success. They have served University of Bath RFC very well on and off the field in their three years playing here.
"To lose the final after the buzzer was brutal. It was disappointing for a group of players that bonded strongly and worked hard for each other over the week and through the tournament but we deserved to be finalists with our performances and a silver medal is a reward for that."
Jenkinson and Henry received support from the Team Bath Elite Athlete Fund to help cover the costs of their travel and accommodation.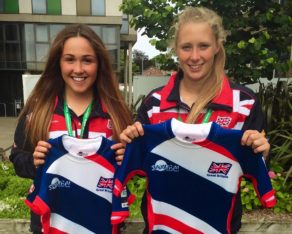 The University of Bath was also represented by students Sydney Gregson, a Trendell Sports Scholar, and Lottie Holland – both supported by the Team Bath Dual Career programme – in the women's tournament.
GB beat Italy 12-0 and New Zealand 27-7 on the opening day but a 21-0 defeat to Japan and 31-5 loss to France saw them finish third in Pool A.
Holland, supported by the Sport England Talented Athlete Scholarship Scheme (TASS), was on the scoresheet as GB beat Spain 33-0 in their first play-off match before a last-gasp try against Italy on Sunday secured a 15-10 victory and fifth place overall.
"Lottie and Sydney, although disappointed not to have finished higher in the table, were two of the standout players for the GB women's team," said James.
"Both have bright futures in the sport, both in sevens and XVs."