Three University of Bath students contested the final of the 2016 European Touch Rugby Championships in Jersey last weekend, where England retained their men's open division continental crown.
Dom Tripp, who has just spent a placement year in Australia on his Sports & Exercise Science course, captained an England side also featuring Sports Performance student Will Serocold to a 10-4 win over Wales in the final.
Lining up against them was Education with Psychology first-year student Dan Roberts, who made his senior debut for Wales at the tournament.
Tripp, who this year became the first Englishman to play in the National Touch League in Australia, said: "Being captain was a huge honour that was completely unexpected.
"In this team we are surrounded by great players and coaches which gave us the ability to play a style that was both exciting to watch and competitive on an international stage."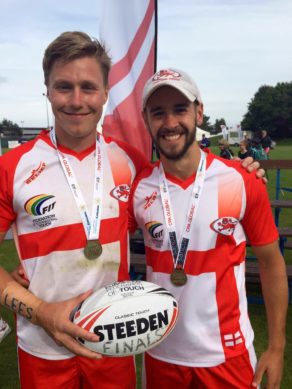 Serocold is supported by the Team Bath Dual Career Programme, which helps student-athletes combine high-performance sport and education, and received funding from the Alumni Elite Athlete fund to help with the cost of travel and accommodation at the tournament.
"With touch still being an amateur sport it can be quite costly to train and compete at an international level, so I'm very grateful for the support the University gives me," he said.
"The Dual Career programme has been fantastic in providing me with access to the facilities and support that I need, and I feel that without their support I may not be wearing my gold medal today."
England dominated the European Touch Championships, retaining their opens divisions, masters divisions and overall European titles with wins in the men's and women's open divisions, and in the women's 27s, senior mixed, men's 30s and men's 45s divisions.
Roberts, Serocold and Tripp will put their national rivalries aside when they return to studies in September and combine to represent the University of Bath Hawks in the England Touch Universities Touch Series, which ran for the first time in the 2015-16 academic year.
Anyone interested in playing touch rugby at the University of Bath should contact Will Serocold via unibathtouch@gmail.com.