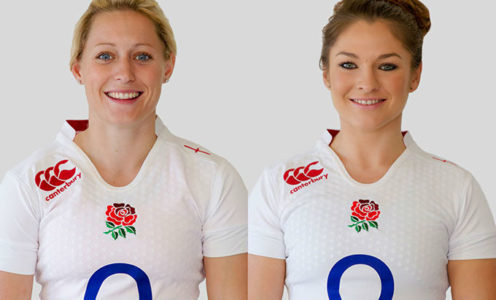 A place in the history books awaits Natasha Hunt and Amy Wilson Hardy after they today became the latest University of Bath graduates to be selected by Team GB for the Rio 2016 Olympic Games.
The duo have been named in the first-ever GB Olympic women's rugby sevens squad, with the sport making its debut at the Games this summer.
Hunt studied Coach Education and Sports Development from 2007 to 2010, while Wilson Hardy graduated in Integrated Mechanical and Electrical Engineering in 2015.
Both represented the University of Bath Women's Rugby team in British Universities and Colleges Sport (BUCS) competitions and were supported by the Talented Athlete Scholarship Scheme (TASS).
In 2014, Hunt – who helped England win the Women's Rugby World Cup that year – and Wilson Hardy were selected for England Rugby's first full-time women's programme.
They have been working towards Rio 2016 selection ever since, competing in the HSBC World Rugby Women's Sevens Series last season as professional athletes.
Welsh international Caryl Thomas has been University of Bath Women's Rugby Head Coach since 2009 and worked closely with both players during their time at Claverton Down.
She said: "The University of Bath Women's Rugby Team is immensely proud of both their achievements.
"Natasha and Amy have worked hard and balanced training, studies and working to get to where they are. Now they've made it into the first GB women's rugby team for the Olympics.
"They are both great role models for aspiring young players. Best of luck in Rio, we'll be watching!"
Ten University of Bath graduates have now been selected for the Rio 2016 Olympic Games, including defending rowing champion Heather Stanning (Sports Technology).
Lawrence Clarke (MSc Business) and Danny Talbot (Sports Performance) will represent Team GB in athletics, while Heather Olver (Coach Education and Sports Development) will compete in the badminton ladies' doubles.
Modern pentathletes Samantha Murray (French and Politics) and Kate French (Sports Performance) still train at the University, as do swimmer Andrew Willis (Chemical Engineering) and weightlifter Sonny Webster (Sports Performance).
Today's announcement completes the Team GB squad for the Rio 2016 Olympic Games, with 14 University of Bath-based athletes having been selected – Emily Diamond, Eilidh Doyle, Andrew Pozzi and Jazmin Sawyers (athletics); Ben Fletcher (judo); Joe Choong, Jamie Cooke, French and Murray (modern pentathlon); Jazz Carlin, Siobhan-Marie O'Connor, Chris Walker-Hebborn and Willis (swimming); and Webster (weightlifting).
Team Bath MCTA Tennis player Marcus Daniell has also been selected to represent New Zealand.