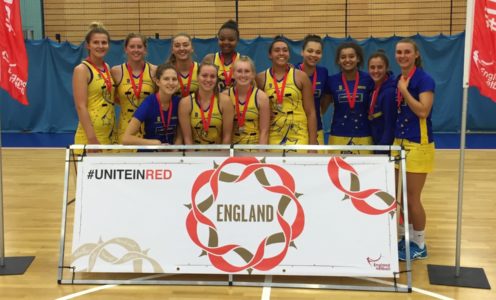 A Team Bath Netball squad featuring a host of England U21 internationals, Superleague players and emerging talent reached the final of the inaugural U21 September Showdown.
The brand-new England Netball competition saw six Vitality Netball Superleague teams joined by regional side West Midlands Warriors and a select team from hosts University of Worcester for four days of action.
Team Bath, captained by University of Bath student Sophie Carter, topped Pool B with wins against Surrey Storm, Team Northumbria and the invited University team before beating Hertfordshire Mavericks 35-30 in a tense semi-final.
Manchester Thunder proved too strong in the final, winning 56-39, but Emily Perry – who was Team Bath's lead coach for the tournament, assisted by Shaunagh Craig – was pleased with the Blue and Gold's performances.
"I'm very proud of what we achieved and to come away with a medal is the icing on the cake," said Perry, who is also the England U21 assistant coach.
"It was a fantastic opportunity for players to experience an intense high-performance competition over four days. This is really important for these up and coming athletes who are aspiring to play at Superleague level and internationally as it really challenged us.
"We learnt a lot about ourselves as a team and individually. Our performances improved game by game and the team connected quickly despite only having one training camp as a team.
"The future is bright for Team Bath with such promising young athletes coming through our pathway."
Jess Shaw – who was last week named in Team Bath Netball's Superleague squad for the 2017 season – was one of three players to wear the Blue and Gold in Worcester to have earned selection for England U21 in next month's Netball Europe Competition, the others being Imogen Allison and Summer Artman.
Also in the Team Bath squad for the U21 tournament were Abi Caple, Yas Hodge-England, Lydia Hitchings, Nicole Humphrys, Alana John, Abi Robson, Ella Powell-Davies and Paige Reed, another player named in the 2017 Team Bath Superleague squad.
"Several of the players have been named in or invited to trial for Superleague teams," added Perry. "This competition was a great part of their journey and provided an excellent opportunity for them to develop further."
Mogers Drewett are Team Bath Netball's Education Partners, Surridge are the Team Bath kit supplier and Skins provide the team with compression wear.