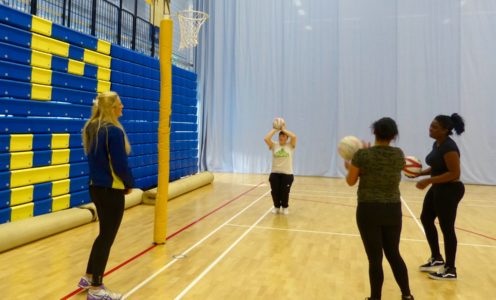 Team Bath Netball's Chelsea Lewis and Paige Reed provided an inspirational coaching session for a group of young women from the West of England taking part in a transformational personal and social development programme.
The women, aged between 16 and 25, have all been on The Dame Kelly Holmes Trust Get On Track mentoring scheme for the past three months and their visit to the University of Bath Sports Training Village was a chance to 'keep in touch' with each other and the programme leaders from the West of England Sport Trust (Wesport) and the Bristol-based 2nd Chance Group.
They also got to practice their netball skills with Team Bath Superleague players Lewis and Reed before taking part in a question and answer session with the international duo, gaining an insight into their achievements and the kinds of barriers they have overcome to achieve their goals.
The players also spoke about the importance of time management and how to handle different pressures in day-to-day life, with Reed – a Sports Performance student at the University of Bath – explaining how she balances her academic and sporting careers.
The visit came about after the Get On Track group supported the Wesport Mixed Netball tournament in August as volunteers during their initial five weeks of mentoring. Team Bath players were also at the event and were keen to continue supporting the group during their year-long journey.


Welsh international shooter Lewis said: "The fact we can have a positive impact on other young women's lives means so much to me and the other players. We are so lucky to be in our position."
The Get On Track programme, led by world-class athletes, aims to improve people's communication, self-belief, confidence, health and well-being. The 'keep in touch' events are vital in ensuring the group are still on track to achieve their goals and also provides an opportunity for participants to reconnect, both with each other and their mentors – Carly Price of the 2nd Chance Group and Philippa Tuttiett, a Welsh rugby international and owner of the UK's only all-female building company.
Wesport and 2nd Chance Group have run five groups in South Bristol during the past two years, with 70 per cent of participants moving into employment, education or training within five months.
Team Bath Netball engage with the local community in a variety of ways – overseeing coaching sessions with schools, clubs and community groups, presenting awards and trophies, and getting out to as many events as possible.
In collaboration with West Country law firm Mogers Drewett, Team Bath's education partners, players will also visit schools to conduct education sessions covering healthy lifestyles and nutritional hints and tips, as well as netball skills.
With Team Bath having nine home matches at the University of Bath during the 2017 Superleague season, which gets under way in February, the Get On Track group are looking forward to seeing the Blue and Gold in action at their six-month Keep in Touch session.
For more information about the Get On Track programme in the West of England, please contact Ruth Mitchell at ruth.mitchell@wesport.org.uk.
Team Bath Netball are sponsored by Sitec, Mogers Drewett are their Education Partners, Surridge are the kit supplier and Skins provide the team with compression wear.