Olympic Champion Lizzy Yarnold returns to the international skeleton circuit for the first time in 21 months today (Friday) when the 2016-17 skeleton and bobsleigh World Cup season gets under way in Whistler, Canada.
Yarnold, who trains with the University of Bath-based British Bobsleigh & Skeleton Association (BBSA), won World Championships gold on her last competitive outing in March 2015 before taking a season off to recharge her batteries.
"I've come back feeling refreshed, recharged and ready to give it my all again," said Yarnold, who won all four major skeleton titles in the space of just over 400 days before her season away from the ice.
"I needed a break last season but I was always determined to come back and try and retain my Olympic title. I hope this is the first step on that journey.
"I know how difficult that challenge will be as so many women slid so well last season but I'm really looking forward to that."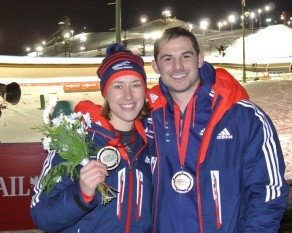 Yarnold will be racing at 10pm BST on Friday in the women's skeleton competition along with British team-mate Laura Deas, who won gold and bronze on the World Cup circuit last season.
Racing in the men's competition at 6pm BST on Saturday are University of Bath Mechanical Engineering PhD student Dom Parsons, supported by the Team Bath Dual Career programme, and Jack Thomas, making only his second appearance at World Cup level.
Britain will enter two crews in the two-man bobsleigh, starting at 2am BST on Saturday. Bruce Tasker will be joined by ex-England Rugby Sevens star Sam Blanchet, while Lamin Deen's brakeman will be confirmed later today.
The women's event, getting under way at 10pm BST on Saturday, will see Mica McNeill and Wales international sprinter Mica Moore look to build on their medal success on the second-tier North American Cup circuit in recent weeks.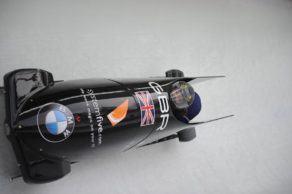 A busy opening weekend concludes with the four-man bobsleigh at 2am BST on Sunday where Deen will be joined by Andrew Matthews, Tremayne Gilling and summer Olympic gold medalist and World Cup debutant Mark Lewis-Francis.
"World Cup One is always an exciting week," said GB Bobsleigh Performance Director Gary Anderson.
"It's where you see what everyone else in the world has done and where they sit and it's great to pitch yourself against the world's best. That's what we have to do week in, week out now."
The BBSA high-performance athletes do their UK training at the University of Bath Sports Training Village, which is home to Britain's only outdoor push-track – click here for more information.