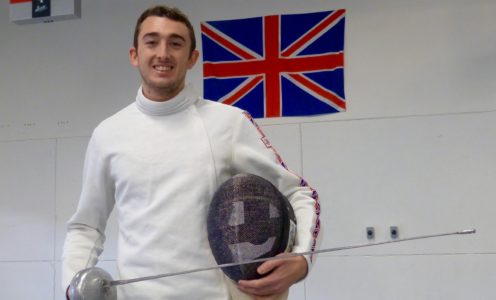 University of Bath Masters student Tom Edwards has started 2017 on a high after rising to number one in the British Fencing epee rankings.
His new status reflects a consistent run of impressive performances on the national and international stage by Edwards, who studies Sport & Exercise Science.
"I'm very happy," he said. "I've been British Champion and Welsh Champion, and represented my country at World Cups so this is another major target ticked off the list.
"I've performed consistently over the last couple of years, reaching at least the quarter-finals of every event I've entered, and it's great to start 2017 as number one.
"My goals for the new year are to retain that status, win the Welsh Championships for a third successive year and regain the British title. I had to settle for silver in 2016 and I am determined to get that title back."
There is a University of Bath one-two at the top of the new national epee rankings with Biology graduate Chris Hay just behind Edwards.
Both train in the fencing salle at the Sports Training Village and are also training partners with Pentathlon GB, helping their athletes prepare for major championships including the Rio 2016 Olympic Games.
"I have to say a massive thank you to Team Bath, Pentathlon GB and the rest of my support team for helping me get to number one, I couldn't have done it without them," said Edwards, who won bronze at the Belgrade Trophy in Serbia in October.
"I'm supported by a Santander Sports Scholarship and the Team Bath Elite Athlete Fund which has allowed me to compete in Qatar, Serbia and Switzerland this season, as well as domestically. That support makes a huge difference."
Having been helped by the University's athlete support services, Edwards' studies are focusing on the stresses faced by student-athletes and what can be done by other sporting institutions to address that.
Both he and Hay are also working as lifestyle advisors for student-athletes on the Team Bath Dual Career Programme, with Edwards adding: "We've both benefited from that kind of advice so it's nice to be able to work with the athletes and help them like we've been helped over the years."
Click here to find out more about the athlete support services available at the University of Bath.