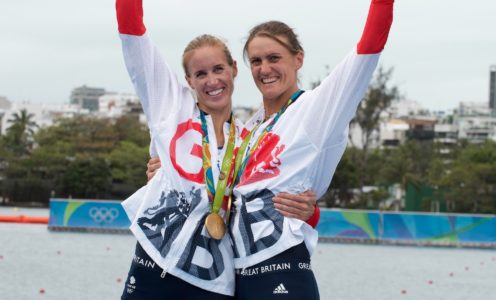 It is the groundbreaking talent identification and development scheme that set double Olympic Champions Heather Stanning and Helen Glover on their way to becoming two of Britain's greatest-ever sportswomen.
Now the GB Rowing Team Start Programme based at the University of Bath has an exciting, ambitious group of emerging rowers keen to follow in their wake as attention turns to the Tokyo 2020 Olympic Games and beyond.
Training and racing alongside students in the University of Bath Boat Club and members of Minerva Bath RC, the Start rowers have been identified through testing and trials as having the physical attributes – height, reach, strength and endurance – to reach the pinnacle of their sport.
Some, like new recruit and first-year Sports Performance student Letitia Tay, come from a traditional rowing background but others, like ex-footballer Nick Bell and junior rugby player Jens Hullah, have transferred their skills across from other sports – as famously did former hockey and tennis player Glover when she joined the Bath programme in 2008.
That approach to developing champions means Dan Harris, GBRT Start Talent Development Coach at Bath, is always on the lookout for people who could make the grade.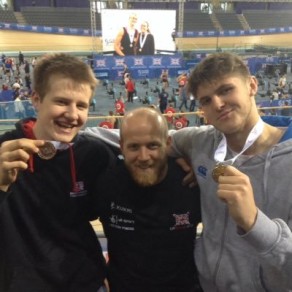 "Because of the reputation we have at this centre for developing rowers, we do have people approach us to do testing," he explained. "But I will also go round the University looking for potential rowers – chatting to them in the gym or even in the Sports Café.
"We look at raw potential. Rowing is a sport that people can come into quite late and because the coaching here is in small groups, recruits get a lot of contact time which helps them to adjust and improve at a quicker rate."
Among the new Start rowers that Dan has spotted potential in is Zara Mulholland, a first-year Civil Engineering student who was a swimmer, horse rider and tetrathlete while growing up in Northern Ireland.
"The swimming training schedule here at Bath didn't quite fit in with my lectures – I don't have a lot of time during the day – but I saw rowing advertised at the Freshers' Fair so I joined the novice women's group," she explained.
"I'd been in it a couple of weeks when they started advertising trials for the Start programme, so I thought I'd give it a go and here I am!
"I'm loving it so far. Rowers train a lot and early in the morning but my swimming training used to start at 5.30am, so it's not actually that scary. It's different training twice a day in the same sport, often I would swim in the morning and run in the evening, but it's still quite varied as there will be on-water sessions, weights, cardio and erg.
"I've mostly been out on the water with the University's novice eights but Dan has started teaching me how to scull. I've been in the double with him, which made it a bit easier, and the next step in the coming weeks is to get out in the single."
By contrast, fellow Start rower Laetitia was no stranger to a boat when she moved to the University of Bath in September having rowed at school and in sixth-form.
"I was a late grower and coxed as a junior," she explained. "I enjoyed being out there on the water but I wanted to be able to make the changes in the boat myself.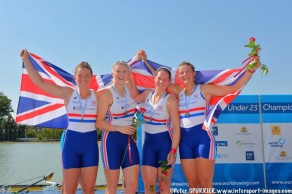 "It's a very different feeling now I'm rowing – nothing beats the satisfaction of being able to take all the work you've done in the gym and transferring it into the boat.
"My dream is to make it internationally and medal on the world stage. I looked at the previous results here in Bath, how many rowers had come through the programme to achieve big things, and that's why I wanted to come here.
"It's also a pretty brutal training programme but that's what sold it to me! I enjoy going into the gym and challenging myself."
That commitment to self-improvement is a common trait among the Start rowers, who have to be focused and determined to cope with a gruelling training regime. They are out on the River Avon at Newbridge by 7am and then have a later session on the erg machine or weights in the Team Bath Gym – a regime they follow six days a week.
"That is what I have loved about rowing so far, seeing that improvement and how far I can push myself," said Zara. "It inspires me to keep going."
If the rowers want any proof that hard work can bring maximum reward, they just need to look at the likes of Glover and Stanning – women's pair gold-medallists at the London 2012 and Rio 2016 Olympic Games, as well as World Champions together in 2014 and 2015.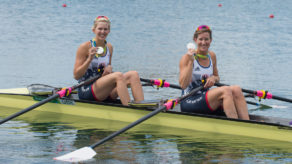 Vicky Thornley came through the Bath system at the same time and went on to win women's double scull silver with Dame Katherine Grainger in Rio last summer.
Looking to break into the GB Rowing Team senior squad this year are Frazier Christie and Sam Courty, both of whom graduated from the University and the Start programme in 2015. They competed at the World U23 Championships during their time at Bath – Courty winning medals in 2014 and 2015 – and have been training at GB's national headquarters in Caversham during the winter.
"For our rowers to see the likes of Sam and Frazier, who were here just 18 months ago and are now training towards Tokyo 2020, is a real motivation," said Dan. "It is really exciting to see their progress."
Laetitia added: "Sam and Frazier came though the programme recently and are now training full-time, so it inspires us to see what they have done.
"This is my first year training with Dan so I am treating it as a development year, trying to get big and strong. The aim for next year is to go to the World U23s, then come back with a medal the following year"
The Start rowers will be competing in national regattas over the coming months, with some also taking part in the GB Rowing Team trials process as they look to earn international vests for the summer.
Think you have what it takes to be an Olympic rower? Click here for more information about the GB Rowing Team Start programme at the University of Bath.