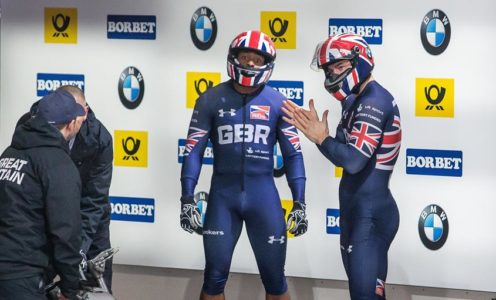 University of Bath-based Bruce Tasker and Joel Fearon claimed a second successive top-ten World Championship finish as they placed ninth in the two-man bobsleigh in Konigssee, Germany.
Tasker and Fearon produced another solid performance in the showpiece event of the year, 12 months after they recorded Britain's best World Championship two-man result for 50 years with a fourth-place finish in Igls.
Only four nations finished above the British number one pair in Germany, with sleds from the home nation, Canada, Latvia and the United States making up the top eight.
Sitting eighth overnight, Tasker and Fearon clocked times of 49.66 and 49.45, saving their best overall time and quickest start of the four runs (4.84) until last.
They slipped back a place after run threee as Germany's Nico Walther climbed the field and they maintained that ninth spot in the final run despite the pressure of having three sleds hot on their heels at the three-quarter mark.
Britain's second crew of Brad Hall and former England Sevens player Sam Blanchet finished 28th from an overnight position of 23rd. Hall, who has just returned from a nasty hand injury, and Blanchet, who is in his first season in the sport, had hoped to break into the top 20 despite being handed a poor start draw on day one but it wasn't to be as they missed out on a fourth run in a 36-strong field.
Tasker and Fearon finished 0.63 seconds outside the medals and less than a quarter of a second from a wider podium place.
The women's two-man bobsleigh competition saw World Junior Champions Mica McNeill and Mica Moore place 16th overall.
The World Championships continue on Friday with GB's male and female skeleton sliders starting their campaigns at 10am and 2pm GMT respectively.
The first two runs of the four-man bobsleigh take place on Saturday, with that event bringing the Championships to a close on Sunday afternoon.
Hall is scheduled to pilot one of two four-man sleds, while Tasker, Fearon and Blanchet will be competing with the rest of the GB Bobsleigh squad for one of the six push positions.
The British Bobsleigh & Skeleton Association is based at the University of Bath, with its world-class athletes training in the EiS High-Performance Gym and on the UK's only outdoor push-start track. Click here for more information.