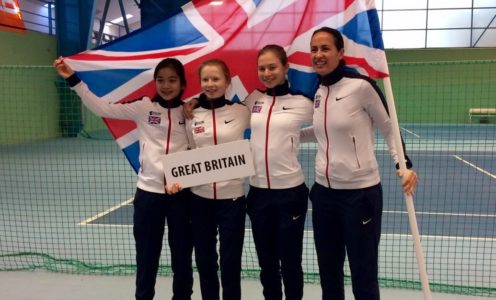 Team Bath MCTA Tennis player Amelia Bissett helped Great Britain U14 Girls to a fourth-placed finish at the Winter Cup Finals in the Czech Republic.
The 13-year-old from Devizes, a pupil at Ralph Allen School in Bath, won three of her six matches during the weekend, including both the singles and doubles during a 3-0 victory over Turkey in the first round.
GB were beaten by a strong Russia side in the semi-finals and went down 2-1 to Italy in the third-placed play-off but finished on a high note as Bissett and Andrea Pineda won their doubles match 6-4 6-1.
Pete Martin, Tennis Operations Manager at the University of Bath, said: "The experience of playing against the very best players in Europe is one which Millie thrived on, providing excellent experience of tough competition in unfamiliar surroundings.
"Millie has just finished competed in four of the toughest level U14 events in Europe and has made improvements along the way, showing she is comfortable in these surrounding."
Bissett will now move on to four weeks of ITF competitions during April, where she will compete against older players at U18 level.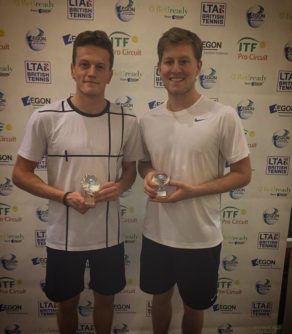 Meanwhile, Luke Johnson and former Academy player Scott Clayton won the men's doubles title at a Great Britain F3 Futures tournament in Shrewsbury on Saturday.
Johnson, 22, from Leeds, began training at Team Bath MCTA during the Autumn after returning from US College. This is his first Pro Event Title, having been runner-up in Turkey last year.
After beating Italian top seeds Andrea Pellegrino and Andrea Vavassori in the quarter-finals, Johnson and Clayton claimed the title with a 3-6 6-4 10-6 victory over Marcus Willis, who famously played Roger Federer at Wimbledon last year, and partner Jack Molloy.
Clayton, who trained at the University of Bath for five years, is now ATP ranked 288 in doubles having enjoyed plenty of success on the Futures Tour in 2016.
A number of Team Bath Tennis players travelled to Poland to compete in the grade-4 Magnolia Cup on the ITF Junior Tour, with Megan Davies reaching the final of the girls' singles competition.
She missed out on the title after a 6-2 6-3 defeat to home favourite and top seed Weronika Falkowska, who also beat Team Bath's Maria Budin 6-3 5-7 6-1 in the semi-finals.
Davies and Budin, who also reached the quarter-finals of the girls' doubles together, will both hope to see their rankings jump after these results, with Junior Wimbledon begin the target for the summer.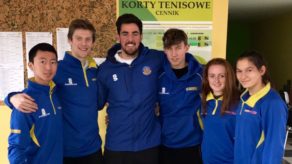 The boys' singles event saw Tad Maclean and Caleb Ralston both safely negotiate the qualifying stages to reach the main draw before having their progress ended by Polish players.
Ralston was disappointed to lose 6-2 6-4 to Michal Miluka in the first round, while Maclean lost a marathon second-round match 7-6(5) 4-6 5-7 in three-and-a-half hours to Tomasz Dudek.
Maclean and Ralston then teamed up to make the quarter-finals of the boys' doubles, where they lost 7-5 6-1 to eventual champions Dudek and Ezven Holis.
The players were supported on the trip by Team Bath coach Rob Morgan, who evaluated the week as an excellent learning experience for the boys and with great outcomes for the girls.
"The ITF Junior Tour gives the players exposure to the necessary preparation, dedication and organisation that is required to compete with success in high-level tennis tournaments," he said.
"This week the player have represented themselves and Team Bath with distinction and will be able to take these experiences with them into the busy Easter period and beyond. It has been invaluable for me to watch them perform, give them feedback and see how they react to these challenges."
Team Bath Tennis travel with and support players both in the UK and abroad across the age groups, a key part of a player's development. Click here to find out more about the all-encompassing tennis programme at the University of Bath.