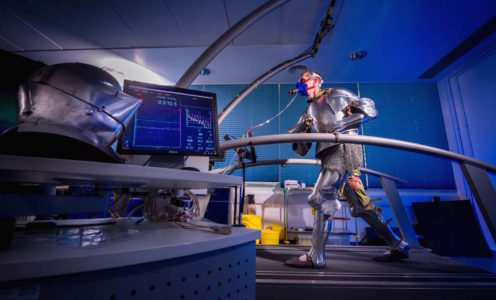 Today's jousters are the ultimate all-round athletes, combining similar levels of fitness and strength to a professional footballer, a top tennis player and a Formula 1 driver, according to research by the Team Bath Physio & Sports Science Centre.
As part of the pre-season preparation for jousting tournaments at castles across the country, English Heritage jouster Roy Murray was put through his paces by Applied Sports Scientist Jonathan Robinson at the University of Bath, undergoing a range of physiological tests commonly used when training Olympic athletes.
The results from the sports laboratory – which is available for use by members of the public – revealed the impressive level of fitness and strength required to joust at the highest level and the requirement of jousters to be an all-round athlete:
Body Fat – English Heritage's jouster Roy Murray has a body fat of 7.72%; in comparison the average male's body fat is between 15 and 20% while the range for a professional footballer is between 8 and 10%. The 33-year-old's score shows how lean and muscular jousters need to be to cope with the physical demands of the sport and the nature of the equipment associated with it (the heavy armour and lance).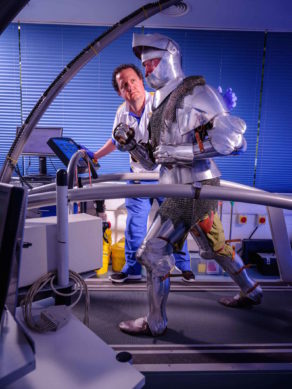 Cardiovascular Fitness – Tested to exhaustion on a treadmill, Roy's score of 55ml/kg/min in the gold standard 'Maximal Oxygen Consumption' test put him in the same category as an elite male tennis player and makes him as aerobically fit as the average Championship level footballer. It demonstrates the stamina required to take on multiple opponents on the jousting tilt yard and to cope with the short sharp bursts of activity when moving from a standstill to a gallop.
Strength – Following both strength dynamometer bench press [67kg max over 5 reps] and bench pull tests [76kg max], Roy proved to have twice the upper body strength required to get into the police force and recorded a similar score to a variety of motor-racing drivers. As in the Middle Ages, today's jousters need to be incredibly strong to carry their 45kg weight of armour and pilot over half a tonne of galloping horse.
Core Stability and Balance – In a series of tests with a Team Bath physiotherapist, Roy's core stability proved better than some professional swimmers and his alignment and balance were comparable with leading acrobats. A strong core and an acute sense of balance are crucial in order to ride straight and stay upright during a joust, all while carrying a 3m long wooden lance, absorbing the sideways impact of a blow from an opponent's lance, and – owing to the helmet – operating with only a 4mm field of vision.
"These results are very impressive," said Robinson. "They indicate that jousting requires physical prowess on a par with professional footballers, tennis players and Formula One drivers combined.
"What is particularly remarkable is the high standards of fitness demonstrated across a wide range of areas. It is clear that jousters must train very hard in various different ways to maintain this fitness in order to compete in such a physically demanding sport."
English Heritage jousting expert Dominic Sewell added: "Historically, boys would have been trained from a very early age, working hard physically all day every day to acquire the strength, fitness and skill required to become a medieval jouster. While modern lifestyles are very different, to joust properly in the 21st Century requires the same dedication.
"The knights that you'll see at English Heritage jousts are among the best in the country and indeed the world. Achieving that level in such a physically and mentally demanding field is no mean feat, but for the audience it certainly makes for a thrilling and spectacular experience."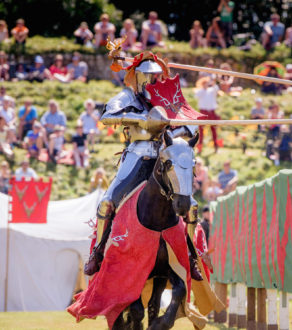 The Physio & Sports Science Centre at the University of Bath is part of the world-class sporting provision at the £30million Sports Training Village (STV). Home to Olympic, Paralympic and World medallists, and the training base for a number of National Governing Bodies, the STV is also fully open to the public. Click here for more information.
Last summer, English Heritage launched a campaign for jousting to be recognised as an Olympic sport. Since then, thousands of people have signed our petition calling for England's first national sport to be given a place at a future Olympic Games.
Throughout this summer as part of its Medieval Knights Season, English Heritage is hosting jousts at its castles including Eltham Palace and Gardens in London (8-9 July), Framlingham Castle in Suffolk (29-30 July), Pendennis Castle in Cornwall (1-2, 8-9, 15-16 August), Dover Castle in Kent (12-13 August), Carisbrooke Castle on the Isle of Wight (15-17 August and 22-24 August), Old Sarum in Wiltshire (27-28 August) and Bolsover Castle in Derbyshire (27-28 August).
To find out more about English Heritage's Medieval Knights Season, visit http://www.english-heritage.org.uk/knights.