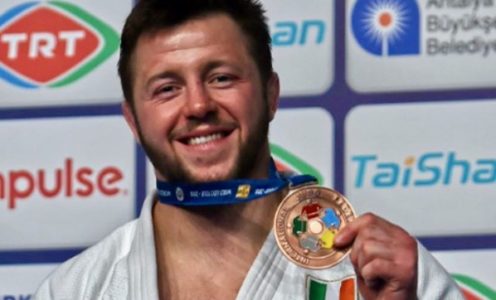 Team Bath judoka Ben Fletcher returned to the international podium for the third time this year when he won -100kg bronze at the Antalya Grand Prix in Turkey.
The MJ Church Ambassador, coached by Juergen Klinger at the University of Bath Sports Training Village, was disappointed to have finished fifth at the previous weekend's Tbilisi Grand Prix in Georgia.
However, he put that behind him by overcoming Austria's Aaron Fara and Danilo Pantic of Macedonia on the way to the quarter-finals, where he was beaten by Azerbaijan's Zelym Kotsoiev on the way to the semi-finals.
Fletcher responded to the setback by defeating Saidzhalol Saidov of Tajikistan in the repechage before clinching a bronze medal with victory over Hungary's Miklos Cirjenics, ranked number four in the world.
"It was a hell of a day of scrapping out here in Antalya," said Fletcher, who is now beginning his final preparations for the European Championships in Israel at the end of the month.
"There are always things that I can improve on but I'm happy with the result, especially off the back of a disappointing weekend in Tbilisi."