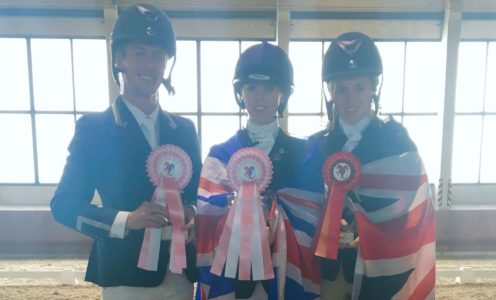 University of Bath student Laura Simpson won individual show-jumping silver when she represented Great Britain in the first Student Riding Nations Cup of 2018 in Segovia, Spain.
Simpson, who is in the fourth year of an Economics course, also finished fifth overall in the combined standings – just one point off second place – after reaching round two of the dressage.
"It is completely different to any other equestrian competition as the entire event is run on unknown horses assigned randomly," explained Simpson, who was joined in the British squad by Cameron Beer and Harriet Deeming.
"It provides a real test of the rider as you only get three minutes to get used to the horse for the dressage and two minutes plus two practice fences for the show-jumping.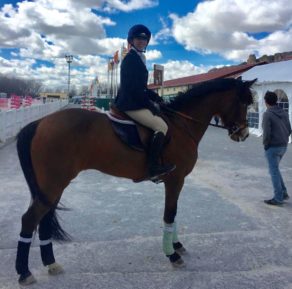 "The first round of dressage is also unusual in that it is ridden as a team, with three horses riding a set routine together. Each round is knockout, with three riders riding each horse and the rider with the best score for that horse progressing to the next round.
"We had a tough draw in the first round of the dressage against Germany and the Netherlands, two very strong nations, but Cameron and I both won on our horses to finish in the top 18 and progress to the second round.
"On the second day, I jumped two clears in the first two rounds of show-jumping to qualify for the semi-finals, where I jumped the only clear of the round.
"That put me through to the final where my German opponent and I had to jump two horses against the clock over a course of fences up to 1.10m high. I had an unfortunate stop on the first horse but a fast clear on the second to win the silver medal. That, along with my dressage second round, left me fifth overall in the combined.
"We were also fifth in the combined in the team competition, as well as fourth in dressage and sixth in show-jumping out of the 18 countries competing, so it was a solid start to the season following the British win at the World Finals at the start of the year."
It was a second experience of the Student Riding Nations Cup for Simpson, a Team Bath Dual Career athlete whose trip to Spain was supported by a grant from the University's Elite Athlete Fund.
Applications for the 2018-19 Dual Career programme are now being accepted from both current and aspiring students. Click here for more information.