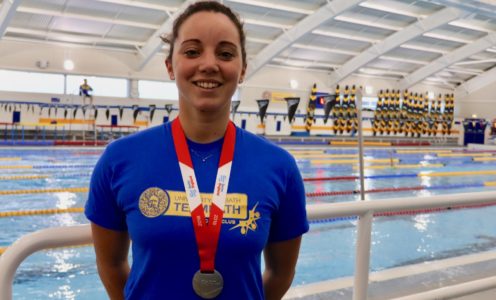 Team Bath Synchro Club's Ila Brandimarte will make her long-awaited British debut on one of the sport's biggest stages after being selected for the Glasgow 2018 European Championships.
Italian-born Brandimarte, who established Team Bath Synchro Club at the University of Bath Sports Training Village in 2016 after graduating in Politics & International Relations, has been training with the British senior squad for the past two years.
She is now eligible to compete after officially becoming a British citizen last month and has been named in a 12-strong squad for the Europeans, taking place in a special pool being built for the competition at Scotstoun Sports Complex.
"I'm feeling blessed to be selected for the Europeans after years of waiting for this moment," said Brandimarte, who has won 11 national medals in the past four years.
"I'm feeling proud and very grateful to represent the Team Bath colours within the national team. I want to thank those in Team Bath who pushed me back into the sport since 2014, to my family, to my synchro club, to my staff, and my amazing colleagues and friends based in the Sports Training Village."
The Synchronised Swimming European Championships are taking place from August 3-7 as part of a major continental multi-sport event in Scotland also featuring swimming, diving, gymnastics, cycling, rowing and triathlon.
Brandimarte works with head coach Francesca Filatondi in the London 2012 Legacy Pool and is supported by Team Bath swimming coach Mark Skimming, sports masseuse Gemma Prior, physio Nick Cleverton, land/Gyrotonic coach Lisa Cleverton and sports psychologist Fabio Gazzotto.
She is also chair of Team Bath Synchro Club, which is running a summer camp at the Sports Training Village from August 18-21. The four days of inspirational Artistic Swimming-focussed training will also include motivational talks from Olympic stars and advice on nutrition and sports psychology.
Click here to book or for more information about the summer camp.