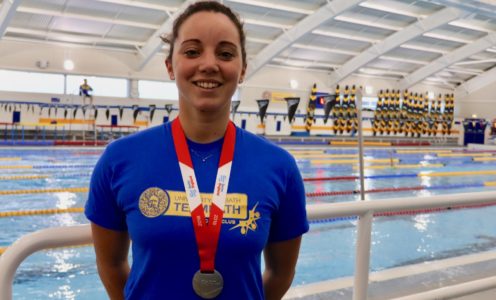 Team Bath Synchro Club's Ila Brandimarte is aiming to compete at this summer's European Championships in Glasgow after receiving a double boost in her bid for Great Britain selection.
Italian-born Brandimarte won a silver medal in the Tech Solo event at the 2018 Swim England Synchronised Swimming National Championships, just a day after being told that her application for British citizenship had been successful.
She has been training with the British senior squad for the past two years and is looking forward to being able to wear GB colours on the international stage, hopefully starting with the Europeans in August – part of a major continental multi-sport event in Scotland also featuring swimming, diving, gymnastics, cycling, rowing and triathlon.
"It has been a long pathway but hopefully we are now getting there," said Brandimarte, who established Team Bath Synchro Club at the University of Bath Sports Training Village in 2016 after graduating in Politics & International Relations.
"I was number three in the country at the last GB senior trials in September, so I've been given the big opportunity to train with the national senior squad for the second year in a row while trying to get the paperwork sorted prior to the Europeans in Glasgow.
"That was uncertain until last week but now we should have everything completed in time for the European qualifiers in June, so my next target is the official team selection – it would be amazing to compete in Glasgow, represent Great Britain and be part of the team."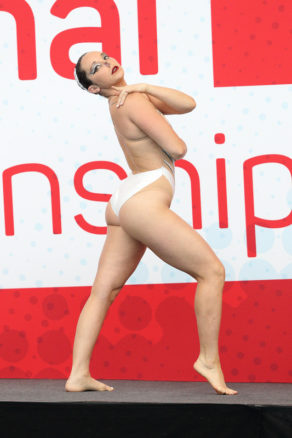 Brandimarte showed she is in good form at the National Championships in Nottingham as she won her 11th medal in the past four years at the biggest national event of the year. It was her third medal in the Tech Solo, an event where specific elements have to be included in a choreographed routine.
"I have now won six gold, four silver and a bronze medal at the National Championships and I think that makes me one of the most decorated athletes at the national senior level in activity," she said.
"I'm proud to bring another medal back to Team Bath. It is the first time I didn't suffer pressure that much in a competition and that is the result of a new training programme I have been following here since September."
Brandimarte works with head coach Francesca Filatondi in the London 2012 Legacy Pool and is supported by Team Bath swimming coach Mark Skimming, sports masseuse Gemma Prior, physio Nick Cleverton, land/Gyrotonic coach Lisa Cleverton and sports psychologist Fabio Gazzotto.
She is also Chair of Team Bath Synchro Club, which is going from strength to strength as more youngsters take up synchronised swimming.
"We launched a junior section in September and we now have nearly 40 children training with us every week plus a master squad composed of adults and university students," Brandimarte said. "We have more taster sessions coming up and we regularly have ten to 15 youngsters who want to try synchro at them, which is really good.
"We've started a partnership with Team Bath Tribe, with beginners joining the youth programme here, and some of our top athletes have joined the Team Bath Futures athlete development programme so we are providing the right environment for their development."
"The next big event for the club is National Age Group Championships and National Masters coming up at the end of the year, and we've been working on technical development in order to be ready for the national stage. We cannot wait to bring the girls there."