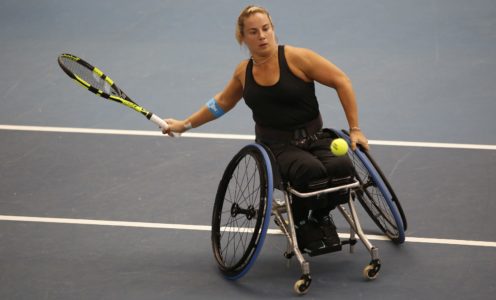 Thirteen world top 10-ranked players, including two former tournament champions and two current World Champions, feature among a star-studded line-up for the 2018 Bath Indoor Wheelchair Tennis Tournament.
Taking place from November 6-10 at the University of Bath Sports Training Village, with free entry for spectators, the third annual championship will see 43 players from 16 different countries, including a host of top Brits, contest the men's, women's and quad events.
Organised by the Tennis Foundation, Great Britain's leading tennis charity, the Bath Indoor Tournament is the last of seven events in Britain this year that are part of the global UNIQLO Wheelchair Tennis Tour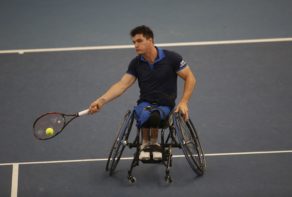 Three of the four men's singles finalists from 2016 and 2017 return to Bath for the ITF1 Series tournament, including Belgium's Joachim Gerard – winner of the inaugural men's title – and Gustavo Fernandez of Argentina. Currently ranked number three in the world, Fernandez became the first South American player to be crowned International Tennis Federation World Champion after ending 2017 at the top of the men's singles rankings.
Sweden's Stefan Olsson, a finalist last year, returns to Bath as two-time Wimbledon champion having defeated Fernandez in the Men's Singles Final at SW19 for the past two years.
With world number five Stephane Houdet of France also among the leading contenders for the Bath title, current British number three Dermot Bailey will lead the domestic challenge after recently becoming a full-time athlete.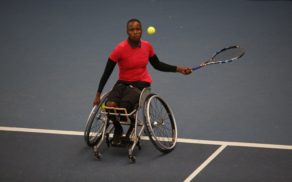 In the women's event, British number one and Wimbledon doubles finalist Lucy Shuker (pictured top) once again joins an illustrious cast of top 10-ranked women's players, which is headed by South Africa's world number five Kgothatso Montjane.
World number eight Shuker will partner Germany's Katharina Kruger this year as she bids to make it a hat-trick of women's doubles titles in Bath. Kruger is also aiming to go one better than her countrywoman Sabine Ellerbrock, who finished runner-up in the women's singles for the past two years.
Alongside two-time Paralympic bronze medallist Shuker, the British challenge for honours in the women's events will include two-time Paralympian Louise Hunt, who once again returns to her former university. Hunt gained a Foundation Degree in Sports Performance from the University of Bath in 2012.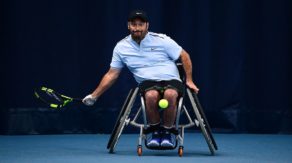 The quad event, for players with an impairment to both upper and lower limbs, sees World number one David Wagner return to defend his Bath Indoor singles title, heading a field that includes Lucas Sithole of South Africa and Brazil's Ymanitu Silva, ranked six and eight in the world respectively.
Wagner will be attempting to win his second major title in Britain this season after claiming his fourth British Open title in Nottingham in July.
The British challenge for the quad singles title is led this year by James Shaw, who was runner-up in the inaugural event at Bath Indoor two years ago, as well as Rio Paralympian Antony Cotterill and reigning National champion Richard Green.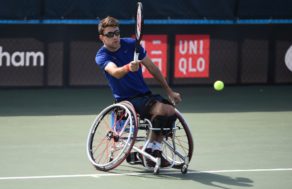 Kirsty Thomson, Tennis Foundation Tournament Director, said: "Bath Indoor has become a firm favourite among the world's top wheelchair tennis players in a relatively short time and its status and its place in the calendar means that it is also an important tournament for many players who are preparing for the year-end Masters championship events in singles and doubles later in November.
"We are delighted to have another very strong international entry coming to Bath this year and it is an ideal opportunity for anyone who has never seen wheelchair tennis to watch some of the very best in action for free at the world-class sporting facilities at the University of Bath Sports Training Village."
Stephen Baddeley, Director of Sport at the University of Bath said: "It is always a pleasure to welcome such world-class athletes to our outstanding indoor tennis facilities at the University of Bath.
"Each year the event offers an opportunity for us to continue our commitment to hosting para-sport and we are sure that, once again, there will be some exciting matches. Wheelchair tennis is such a great sport to watch, so I would encourage spectators – whether staff and students on site or the public of Bath – to take this opportunity to come and enjoy some truly world-class sport for free."
As well as members of the public being able to watch the action for free throughout the five days of competition, this year's Bath Indoor also maintains a strong aspirational element, with the Tennis Foundation giving local schoolchildren the opportunity to visit the tournament and try tennis for themselves as well as being inspired by a number of Grand Slam champions and Paralympic medallists.
Interested in giving wheelchair or any other form of disability tennis a go? Get in touch with the Tennis Foundation via info@tennisfoundation.org.uk.
The Bath Indoor Wheelchair Tennis Tournament is the latest high-profile tennis event hosted on the eight indoor courts at Team Bath Tennis – next up is the international Fed Cup event from February 6-9. Find out more by clicking here.